January 23 2007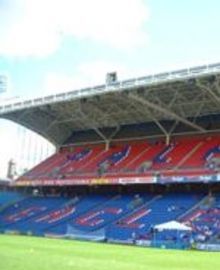 New signing Dave Martin can't wait to be involved in the Palace squad this season.
The 21-year-old left winger signed from non-league Dartford this week for a fee of £20,000, and he told the official Palace website www.cpfc.co.uk that he can't wait to get started.
"It has dragged on a bit and there was a lot of speculation about where I was going, but the manager at Dartford, Tony Burman, has been really good about it and let me know what was going on," explained Martin.
"Both Millwall and Palace were interested but I wanted to come to Palace and when I found out that Palace wanted me to come down I was really pleased and just wanted it to happen.
"When it all went through and I signed, I was so relived and it's still sinking in to be honest."
Martin will have to train hard to establish himself as a contender for a squad place this season, after spending the last year and half playing part time for Dartford.
"I definitely want to be involved in the first team before the end of the season and give everything I've got and try to establish myself," he added.
"It is a big step-up from what I've been playing, but I'm confident I can do it and the manager is confident in me because he has brought me here."