February 24 2007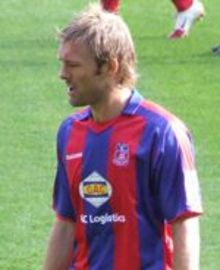 Peter Taylor has warned his Crystal Palace flops they are playing for their futures.
Palace's Premiership parachute payments finish at the end of the season, so Taylor knows he will have to balance the books by getting rid of several of the club's under-performing stars.
Clinton Morrison, Darren Ward, Michael Hughes and Gabor Kiraly are among those likely to leave and Taylor, whose side host Luton today, insists it is up to the players to prove they are worth keeping.
Taylor said: "If you are getting £9m in parachute payments, and all of a sudden it stops then next year it is going to affect you.
"You have got to cut down on something and that is what has to be done.
"Players who are out of contract may not get offered the same terms or they may not get offered anything. That is football life.
"It's in their hands. We had a good chat before the Southend game on Tuesday and I told them I expected to finish the season in a very positive way.
"If it means we have 12 hardworking performances, but don't get the results you deserve I can live with that."
Taylor knows Palace need to go on a long winning run to have any chance of reaching the play-offs.
He hasn't given up hope of getting those wins after experiencing a similar run at Hull.
"We need an amazing run, there is no doubt about that," he said. "I'm not kidding anybody.
"With 12 matches to go, we need at least nine wins. If we do that we might have a chance if some of the teams at the top have a bit of a wonky run.
"I've had a similar run at Hull, when we won promotion a couple of years ago. We won eight games on the spin at this stage of the season."