March 8 2007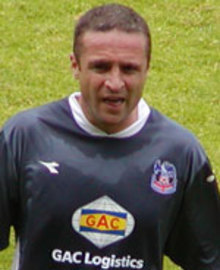 Peter Taylor says the door is open for Michael Hughes to return to the Crystal Palace side.
Hughes and Taylor have not seen eye-to-eye at times this season and the midfielder has been unhappy about being dropped.
The Northern Ireland internationational claims he has been fit to play, while manager Taylor says he has been injured.
But Taylor said the pair's relationship is back on track and urged Hughes to fight his way back in the team now he is fit again.
"We're fine," said Taylor. "It is a professional relationship. I can imagine Michael is not over the moon about not playing every week and I was a bit disappointed something was said when he was not 100 per cent fit.
"He has not played his last game for Crystal Palace."
"This week is the first time he has trained with us since his injury and he has done very well. He is in contention, without a doubt, and I have told him that.
"Before this week, he hasn't been training with us. He has had a few niggles. But he has got his head down this week and trained hard."
Hughes has been linked with moves to Leeds and Coventry under former manager Iain Dowie.
"I have not spoke to the clubs concerned, but it would not surprise me seeing Michael linked with Coventry, with Iain being there," said Taylor.
Taylor also rubbished newspaper speculation linking TOM SOARES with Bolton.