April 4 2007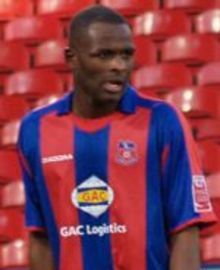 Leon Cort believes Crystal Palace manager Peter Taylor has got the best out of his talents.
Taylor went back to former club Hull to pay £1.25m for Cort last summer and the defender has been a star performer this term.
Cort, 27, is set to pick up the Player of the Year award and the Southwark-born ace says he owes it all to boss Taylor.
"Settling in straight away has really helped and a big factor in that might be knowing the manager," said Cort.
"I understand how he likes his team to play and how he wants his defenders to defend. First and foremost he wants you to be a defender and then a player second. I feel defending's the strongest part of my game.
"He knows me and I know him - we compliment each other. I know how demanding this club is and that the fans want to see good players come in. It's a fantastic feeling when they say I'm a contender for Player of the Year.
"My price-tag hasn't played on my mind because you've got to have self-confidence. If the manager has asked 'Do you want to come to Crystal Palace?' and you have said 'Yeah' - you've got to be ready for it. I felt I was ready for it."
Returning to his roots in South London has also helped the former Dulwich Hamlet and Millwall centre-half settle into the team.
He said: "It's really nice to be back in South London, that's helped. My family and friends are all around me and after a game it only takes 10 minutes to get back home."