May 18 2007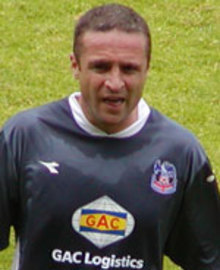 Michael Hughes insists he doesn't hold a grudge against Peter Taylor despite the frustrating end to his Crystal Palace career.
Hughes had several disagreements with Taylor after being consigned to the sidelines for most of a miserable campaign that culminated in his release last week.
But the 35-year-old Northern Ireland midfielder has buried the hatchet and said: "Itís no secret that me and Peter Taylor had our ups and downs.
"But we left on what I consider to be good terms and I have no problem with Peter.
"I donít hold any grudges with anyone. Peter Taylor has a job to do, and both he and Simon Jordan have to choose the players they need for next season. I accept that decision because itís a professional one.
"I was 90 per cent certain that I wasnít going to be offered a deal. But I had some good times with Palace and wouldnít change any of it."
Hughes now hopes to move on to another Championship club.
"Iíd like to play for another season, but donít think Iíd drop down a league," he said. "On one hand Iím gutted to leave Palace after spending so long at the club. But on the other hand, Iím excited about moving on to a new challenge."