June 25 2007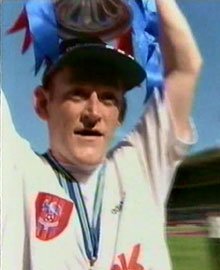 Ten years ago Crystal Palace won promotion to the Premiership after a last-minute win over Sheffield United in the Division One Play-off Final. Former players recall the magical day...
"I'd scored a few goals that season but none as important as that. The ball just came to me, and at first I was going to cross it, but then I got it onto my right foot and decided to curl it.
"When it went in, I knew there was no coming back from that because it was so late in the game. It was great to score at Wembley and great to win the match. But we'd worked hard all season for that and it was good to get the reward."
"It was really hot out there and I was beginning to feel it. I'd already asked our kit man to get me a new pair of boots in case we had extra-time because my feet were on fire.
"But thankfully Hoppy's goal saved me from all that and it was tremendous to make up for the play-off final defeat against Leicester the year before and win the game. It was a really big disappointment for everyone when we were beaten by them, but that made up for it.
"Losing at Wembley is a terrible feeling, and I felt for the Sheffield United players, but at the same time it's a great place to be when you win.
"Being in the Premiership is where all players want to be. We played well in the season and I think we deserved the win and promotion."
"The players did brilliantly over the season, and I must admit that at the start, I thought it would be a very hard nine months for us.
"The squad was diluted with the departure of Nigel Martyn, but although there were some rocky moments along the way, the team came through them. They were a great bunch of players to work with and they had some very good qualities.
"The semi-final games against Wolves and the match against Sheffield United were very hard to watch, because there was so much at stake and so much tension involved.
"But the players handled the whole thing really well and were very determined to make up for the previous year's defeat against Leicester. I think we all remember how we felt then and it's not something any of us wanted to experience again."
Ray Lewington
"We were on the bus coming away from Wembley and someone started talking about the journeys we would be making and the grounds we would be playing at - Old Trafford, Anfield, Newcastle, Arsenal, Tottenham. It was only then, that we suddenly thought 'what have we done!'
"Eight years before, it was the first time we'd done it through the play-offs and as such it was special. But I think this time, it was special because of the consequences."
Steve Coppell