July 3 2007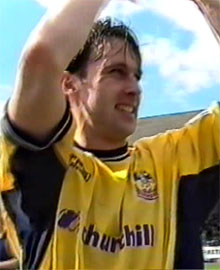 Dougie Freedman's amazing 87th minute winner at Stockport in 2001 ensured Crystal Palace avoided relegation to Division Two. Some of the players look back on the day.
"The win was all down to the team. We worked very hard, kept pressing Stockport and it paid off in the end. The whole team stuck together and Clinton Morrison was sensational. His workrate and all-round game was brilliant. His goals over the years really helped us.
"We went to Portsmouth as a group, worked hard and it paid off . We all stuck together and thatís what happens when you stick together.
"We had no idea what was happening elsewhere. All I was thinking in my mind was we had to win the game and thatís what we could do. For the goal, I just dummied the geezer and put it in the top corner."
"The fans were tremendous. They were excellent for the club during the administration period. It was great we got the result we needed to survive.
"Our aim was to win the two matches, which was what we did. We then had to hope somebody slipped up - and Huddersfield did. I was in a no lose situation. If we won both games, Iíd be a hero. If we lost both, nobody would have thought anything of it.
"I felt we could beat Portsmouth, but knew it would be difficult against Stockport as they were a big, physical side. When I sent on David Hopkin, I told him what the scores were elsewhere and he transferred them to the players straight away.
"But with five minutes to go, we thought the chance had passed us by. But Dougie produced a moment of magic to win the game for us."
"We did really well and I thought we deserved to win it. The manager told us to go out and concentrate on our own game and then we were safe. That was the main thing.
"What a goal by Dougie - he did really well. He worked hard for us that year and it was a great finish. The fans had been great all season and we owed it to them. They shouldnít be in Division Two and I was so glad we stayed up."
"It was very important to win. It doesnít matter when the goals were scored as long as you get the three points. We pushed them and created a few chances. And if anyone was going to get through one-on-one, I thought Dougie would do it. He took his goal really well. We hung on until the end.
"We battled well, dug in and got the three points. Steve Kember did a great job. He came in and lifted the ladsí spirits in the two games and played some good football. We were delighted for him."
"It was pretty nail-biting stuff to be honest, but we got there in the end and thatís what mattered. We never gave up hope because we had three very good front players who could score at any time.
"At the beginning, we said we didnít want to know what was happening elsewhere. But then at half-time, we found out Portsmouth were winning 1-0. We knew we had to win. After we found out the other scores, Brian our assistant kit man, sat behind us for the rest of the day with the radio in his ear.
"We went hell for leather in the end, brought on Tommy Black and started to play four up front. We left them up there so we were risking that Stockport might score. But luckily Dougie scored what was a very good goal.
"Iíve never experienced anything like that before. It was by far the most traumatic thing Iíd been through. Excitement is what football is all about - I thought it was fantastic. I think Huddersfield had another five minutes to play, so we had to go back to the dressing room and sit quietly.
"We shoved the kit man into the back room and we were all telling him to hurry up. How he was going to hurry up Huddersfield I donít know!
"Then the Birmingham keeper Ian Bennett made a very good save and we heard it was two minutes to go. Then it went all quiet and Brian jumped up and said 'weíve done it'. Then all hell let loose and rightly so.
"Alan Smith and Ray Houghton had left the week before and it was upsetting to see that happen. Alan recommended myself and Steve for the caretaker job for the last week of the season, so there was no animosity on their part. All we did was what was asked of us. To give it our best shot and we did. Luckily the players responded, the fans responded and we had a touch."
Terry Bullivant
---