June 6 2007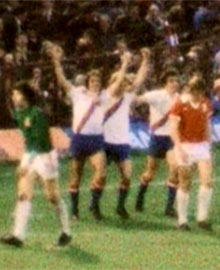 Crystal Palace's fantastic win at rivals Wrexham ensured promotion to the Second Division in 1977.
Palace travelled to Wrexham in midweek for their last Third Division match of the season sitting in fourth place, and two points behind the Welsh side, who occupied the third and final promotion spot.
They had to win by two goals and needed Wrexham to lose their outstanding game on Saturday to go up.
Wrexham were unbeaten at home all season, but Palace opened up a 2-0 lead. Kenny Sansom's long throw found Nick Chatterton, whose shot deflected off a defender for Dave Swindlehurst to slam home in the 27th minute.
Then five minutes into the second half, Sansom combined with Barry Silkman who crossed for Steve Perrin to score.
Goals from Wrexham duo Whittle and Lyons made it 2-2, but Palace sub Rachid Harkouk pulled it back to 3-2 in the last minute when he clipped the ball just under the bar after a mellee in the box.
Then deep into injury time, Harkouk fed Jeff Bourne with the perfect throughball to snatch an amazing 4-2 triumph.
In Wrexham's final game against champions Mansfield, they crashed to defeat and Terry Venables clinched Palace promotion to the Second Division in his first season as a manager.
Looking back at the match, Venables said: "It's the most memorable game for me out of all the clubs and memories I have. It was just eery, amazing, just like it was meant to be. It was quite amazing."
Palace: Caswell, P Hinshelwood, Sansom, Holder, Cannon, Evans, Chatterton, Swindlehurst, Bourne, Perrin, Silkman (Harkouk 56).