July 12 2007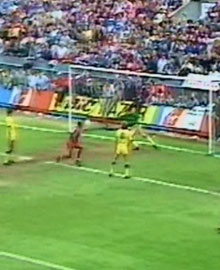 Players look back on Crystal Palace's 3-0 play-off final second leg win over Blackburn to ensure promotion to the First Division in 1989.
The Eagles were 3-1 down from the Second Division play-off final first leg at Ewood Park.
In the second leg, Ian Wright and Dave Madden put the tie into extra-time at 3-3 on aggregate, before Wright netted in the 117th minute to send Palace into the promised land.
"It was too close for comfort, but when it was all over, it was the greatest day of my life in football. The play-offs are cruel and I felt sorry for Blackburn, but I suppose that at the end of the day you can say we justified them by getting promotion.
"To be fair, I said all along that I thought we were the third best team in the Second Division. But it would have been terrible for us if we'd missed out after battling so hard all season to get where we did.
"The 3-1 scoreline from the first leg at their place flattered us a bit, but the lads turned in a magnificent performance to pull the goals back and win the final.
"When the match went into extra-time, I was a bit worried because we'd given do much for 90 minutes, and I wondered whether we might have burned ourselves out.
"We were running on raw nerves for much of the time, but once again the crowd were magnificent and they gave us a lot of energy. In the end, it was sheer determination and will to win that pulled us through."
Steve Coppell
"I had been out for seven months with a knee injury and had to think about my match fitness when the manager asked if I could play. The most important thing was that I didn't want to let the side down if I played. I phoned the manager back 20 minutes later and said that if he had faith in me that was all I needed and that I'd play.
"It was tremendous to come back and play in a match like that and the good thing was that I knew I had 30,000 people pulling me through. There's no where like playing in the top flight - it's got to be every professional's aim.
"There was a point in extra-time when I knew we'd won it. Just inside I knew. Sometimes in a game you get that feeling: 'We know we've got this. This is ours'."
"I always had faith we could do it and that's why I signed a new contract when the team was 12th in the league. I was ready for the top flight and I said all along that I thought we could do well there.
"The Blackburn game was so important that it got to me because I couldn't really sleep the night before the match. I knew so much depended on it and I was just glad that I managed to get the two goals. Although the important thing was that we won and it didn't matter who got them."
"We proved a lot of people wrong. It was great for me because I remember when we were struggling to stay in the Second Division, so that made it all the more satisfying. Playing in the First Division was a dream come true."
"The first thing I thought was that I was either going to be the hero or the villain, but my legs didn't go to jelly. I had enough confidence in what I was going to do and how I was going to take it.
"I must admit that I thought the keeper would know which way I was going to put it but I always struck the ball better to my right so I thought I'd better go that way. When it went in I just sprinted to the Arthur Wait stand. That was one of the best moments of my career.
"I took a few penalties against Terry Gennoe when we were both at Southampton and I saw him lean a bit to his right before I took that one, so I put the ball on the other side. I played a couple of games in the First Division with Arsenal and could not wait to play there again."