October 9 2007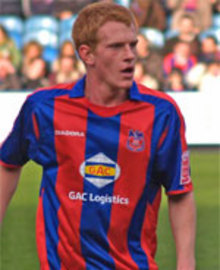 Ben Watson admits he was surprised to see Peter Taylor given the boot.
Chairman Simon Jordan terminated Taylor's contract at the club's Beckenham training ground on Monday after a string of poor results.
Taylor had met with midfielder Watson just moments before to chat about the Eagles' next fixture against Blackpool, so Watson was shocked to hear his boss had been sacked.
Watson said: "It was a bit of a surprise to me personally because I sat down with him after training yesterday morning and we had a chat about the weekend and the way we have been playing.
"I thought nothing of it because we talked about facing Blackpool and within half an hour, it came out that he'd been sacked. That's football for you.
"I heard the news in the afternoon, when the chairman sat us all down after training to tell us. It's disappointing to hear, but he is still a top manager and will manage somewhere else.
He added: "We wish him all the very best luck for his future. We haven't started this season in the best way, so we weren't any help for the gaffer.
"As a player there is always going to be the thought that, if we had won on Saturday would this have happened? You never know…"
For the full interview, please go to: Icons.com