October 15 2007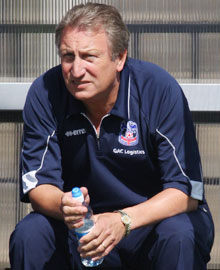 Neil Warnock has treated the football world to a number of entertaining quotes. Here are some of his best...
"David Elleray was that far away he would have needed binoculars. I really think it's about time we use the means to sort these things out rather than relying on some bald-headed bloke standing 50 yards away."
"Anyone who knows Gary Megson knows he is the biggest moaner around."
"If we go up I'll even guarantee that I'll drown my players in champagne - non vintage - to their hearts' content."
"The Leeds fans chanted, 'Warnock, Warnock, what's the score?' and I signalled to say '1-0, but there is plenty of time left'. The fourth official came up to me four minutes later and said the head of security has said 'If you incite the crowd any more you will be removed from the touchline'. They'd probably put me in prison in padlocks."
"I remember the day when they sold Brian Deane and Jan Aage Fjortoft. It was like when President Kennedy got shot."
"There are two or three managers I just can't stand. I detest them. So far I've kept to myself what I hate about them. But what they say gets a lot of coverage. I'd love to come back and give my version. I'd like to tell everybody why I dislike these people."
"My wife will be glad about Jose Mourinho coming to Bramall Lane because he's a good looking swine, isn't he?"
"I shouldn't really say what I feel, but Graham Poll was their best midfielder in the goal. You saw him coming off at half-time and at the end. He smiled so much, he obviously enjoyed that performance. I think the referee should be banned." - After referee Poll's display in Sheffield United's 1-0 2003 FA Cup semi-final defeat by Arsenal.