November 3 2007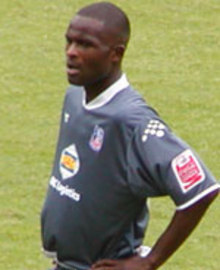 Leon Cort was given the boot by Crystal Palace boss Neil Warnock because he didn't have any scars on his face.
The centre-half joined Stoke City this week on loan and the deal will be made permanent in January once the transfer window opens.
Cort, who is the club's Player of the Year, revealed his face did not fit when Warnock arrived at the club.
"As soon as the new manager came in he was saying things like I didn't have enough scars on my face and I knew with comments like that my time was up," said Cort.
"I know for a fact he wasn't happy with my disciplinary record but people can look at it in two different ways. Some would say I don't like a challenge - which is nonsense if you've seen me play.
"I will tackle and put my head on the line but I'm not going to make a silly challenge just to get booked for the sake of it.
"I don't see Sol Campbell or Rio Ferdinand getting booked that often. I think the manager wants someone who will rough up centre-forwards and you can't just instil that in someone - they've got to be like that in the first place. He wants a Chris Morgan-type - that's his sort of defender."
Cort was reunited with Peter Taylor last summer when the manager took him from former club Hull City for £1.25million. The 28-year-old had a brilliant campign, finishing as the joint-top scorer with eight goals and scooping the Player of the Year award.
And when Taylor was sacked last month, incoming boss Warnock decided Cort - last booked in April 2004 - was not physical enough for him.
"To some extent it is a shock to go because I had a good campaign last season," said Cort. "This year I haven't been at my peak but the team hasn't been playing well.
"When you're in the position we are in the league, sometimes your confidence gets knocked because everything is just a bit more intense - you know if a mistake is made at the back you're going to get punished for it. It has an overall effect on the team.
"I'm not bitter if the manager wants to go with something different - I've got a decent deal out of it and have joined a very good team. It's just one of those things."