January 15 2008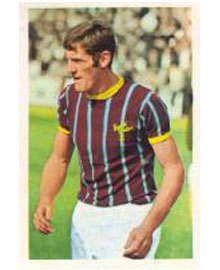 We kick off the start of a new regular Top 10s feature with the top 10 Crystal Palace Macca's.
10. George McGeachie (1951-52)
The wing-half arrived from Rochdale in 1951 and went on to make 46 appearances before departing for Wigan Athletic.
9. Andy McBride (1973-74)
Made just one appearance in defence for claret and blue after progressing through the youth ranks and left for USA club California Surf.
8. Andy McCulloch (1983-84)
Signed by Alan Mullery, the striker netted just four goals in 29 appearances and it wasn't long before he was shown the Selhurst Park exit.
7. Harry McDonald (1950-55)
Spotted playing local football in Lancashire, Harry joined Palace at the age of 24 and was a strong, quick left-back who made 146 appearances.
6. Roy McCracken (1920-26)
The classy wing-half was the first Third Division player to be selected for Northern Ireland and inspired the team to promotion to the Second Division in 1921.
5. Leon McKenzie (1995-00)
A product of Palace's youth academy, he was 17 when he scored on his debut in the League Cup against Southend. A lack of first-team opportunities meant he went to join Peterbrough and now plays for Coventry City.
4. Jobi McAnuff (2005-07)
Joined from Cardiff City, the skillful winger provided bright moments in a frustrating two seasons which saw Palace miss out on promotion to the Premier League in the play-offs under Iain Dowie and struggle under Peter Taylor.
3. Johnny McNichol (1958-63)
Skippered Palace's first promotion side for 40 years when Palace went up to the Third Division in 1961, the inside forward currently holds the club record for consecutive league appearances with 153.
2. Eddie McGoldrick (1989-93)
Tricky winger who supplied the ammunition for Mark Bright and Ian Wright in Palace's glorious promotion to the top flight in 1989. He was converted into an excellent sweeper before leaving for Arsenal in 1993 after the Eagles' Premier League relegation.
1. John McCormick (1966-73)
The Scotsman was a pillar of stength for many years at the heart of defence and was instrumental in helping Palace win promotion to the top flight in 1969.
Send us your comments and top 10 suggestions to