June 29 2002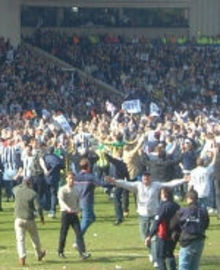 Palace fans enjoyed a carnival atmosphere as West Brom secured promotion to the Premiership. But Chris Mead went home pretty fed up...
Every season me and my dad try and get to as many away games as we can which is never usaully that many due to costs and stuff but we always go to the first and last away games of the season.
This year WBA was our last game and looked to be a good one so we set off like usual with one of my mates and my dad's mate.
The day at the Brom was a great with a cracking atmosphere and a bit of a party with their lot on the pitch as you know.
On the way back to the car, we passed a pub on the corner and all the WBA fans invited us in and offered us pints (you cant refuse!).
After a few swift ones we said our thanks and made our way back to the car parked up the road a bit. We had parked the car on an industrial estate and taken our stickers out of the window just to be safe.
Anyway, we got to the car and there was glass all over the floor. Some bloody Brummies had done in the passenger window and had away with the rather nice Sony stero which my dad had forgotten to take out.
We had to go back down the motorway with wind gushing into the car for two hours - a nice end to a good day.
So the moral of the story is dont be lazy and leave your stereo in as you will be kicking yourself to high hell!