October 14 2002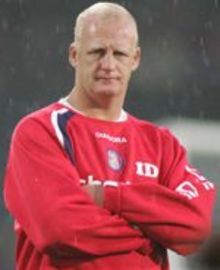 Crystal Palace have had a number of ugly players adorn the red and blue over the years. Here's a selection of some of the best... or worst!
A big fan favourite at Palace for his goalscoring, battling displays up front during 1995. His style of play meant a broken nose or two and if you ask any football fan to name their ugliest player, Dowie would be their first choice. He may not have the looks, but he is intelligent for a footballer, has a degree and was not a bad target man scoring 81 career goals.
During his outstanding first spell with the club, nobody cared about his ginger hair and massive ears. When he returned after spending time at Leeds and Bradford, he was a fat, ginger, big-eared crap player and we were glad to see the back of him. Astonishingly, he has a stunning blonde bird...
Somehow managed to remain at the club for two years since signing from Bradford in 1991. He was absolutely useless and got a lot of stick from the Selhurst faithful. It didn't help having a square-cut hairstyle and massive ears.
Known as a hot-headed, fat midfielder, Pollock was signed from Man City and performed well in his opening games for Palace. But his form went, he fell out with Alan Smith and Simon Jordan for his bad attitude and weight problems. As you can see, he's a gruesome player. Couldn't even be arsed to shave!
One of Palace's greatest-ever wingers and when Bert Head signed him 1972, he instantly made himself a hero helping Palace defeat Man Utd 5-0, scoring two good goals. Despite his awesome wing-play, he wasn't quite a looker with a giant, thick moustache and long brown hair and was sold to QPR two years later.
Steve Bruce
The flat-nosed judas had to get a mention. His battered face from being on the receiving end of those crunching challenges from clumsy centre forwards whilst playing for Man Utd over the years have taken their toll. Coupled with a curly afro and geordie accent along with turncoat tendancies make him worthy of a place here.
The best product from the Palace youth system in recent years, the England defender was well-liked at Selhurst and a decent player. Off the pitch he's very much a goody-two shoes. Whether that was what attracted his good-looking wife to marry him or not is another matter. But the guy has a big nose and teeth like a gerbil.
Poor old Alex. If he's not crying in the dressing room after letting another howler through his legs he's getting turned away from the ladies in the local nightclubs. Maybe he needs to learn a few English chat-up lines as his side-sweep, angry look and massive conk don't do him any favours.
Who remembers Rudi? Eagles fans thought Palace had signed a six-foot giant ET when he arrived from Colchester in 1988. The lanky, clumsy defender was very strange looking and a terrible player. Apart from that, he was probably a nice guy.
The man-mountain 6ft 5in centre-half was not the kind of guy you'd want to get on the wrong side of. His ragged face, with beard and mullett would have put most strikers off looking in his direction.