November 24 2002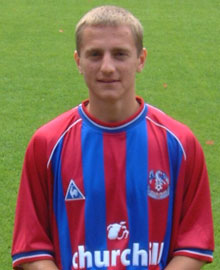 We asked you who you thought should be added to our collection of ugly Palace mugs and here they are...
AshfordianEagle
Rubins should definately be here, for his complexion alone. Pummelled with the ugly stick he really is.
Cucking Funt
The boy Rubins has to be included. Great player (criminally under-used) but, wow, pizza-face really does have a face like a well spanked arse.
genius17
You're missing Lombardo, Leif Anderson, I'm sure a few others. We're a mingin' club.
Dangermouse
Eric Young. Ugly with pointed "Spock" ears.
sac
Neil Shipperly with his lugholes to put Dumbo to shame and too many teeth for that tiny mouth but he was a great striker.
marek
Andrejs Rubins has pretty grusome skin poor lad and Neil Ruddock looks like a pie and suet pudding obsessed middleweight boxer. Thomas Brolin was pretty fat and crap as well.
Bill
Mark Dennis, Ian Philip, Mark Lazarus, John McCormick.
Bruce
What about Terry Phelan? I know he was only on loan, but surely having a Mekon from Dan Dare (Eagle Comic, circa 1950s) is worthy of note!
Kevin
You've got to put in a word for the likes of Marco Gabbiadini and Jamie Moralee. Also Marc Edworthy's huge chin, Chris Armstrong for all those moles, this is the funniest thred I've ever seen.
What a dirty greasy man. Would look more at home in a kebab shop!
David Guscott
supereaglesfc
Tomas Brolin. Not only was he a s**** player but he was a right ugly b****** aswell. With his perm like hair and totally messed up face he isn't far off looking like Steve Bruce (related?). He's gotta be one for the ugly Eagles collection!!
Eaglechris
What about Roly Poly Brolin ... ugly git!
Daniel Windstam
Tomas Brolin must be one of the ugliest player ever!!
STEVE BRUCE
Does he count? He was at Palace for a few weeks before he decided to up sticks and leave, just as we looked like we could be real promotion contenders for the first time in ages!
Somehow he has a wife and kids, so there must be something about this outrageously ugly club hate figure which appeals to the ladies. I can't imagine what though, as both his face and his personality are amazingly unappealing!
His flat 'boxers' nose must have been inflicted by one of the numerous people who he has angered over the years and his face is scary. It frankly belongs where it is now - Birmingham! His 'helium' voice didn't help matters either!