March 29 2007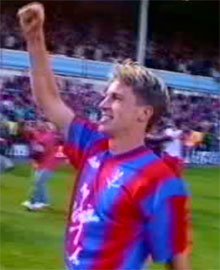 Four Crystal Palace players recall the epic 4-3 FA Cup semi-final win over Liverpool in 1990.
"I was a survivor from the 9-0 defeat at Anfield the previous September, so that scar was still reasonably fresh. This time we were without Ian Wright (who had a broken leg) and we knew we were never going to outplay Liverpool, so there had to be something else we could do.
"We certainly backed our fitness. Steve Coppell ran us every bloody day; we were effectively the Crystal Palace athletic club, doing six-mile runs and all sorts.
"And when we got to Villa Park there was a quiet belief that something could happen. The pressure was all on them, going for the Double and their third successive FA Cup final. But we had nine good reasons to want to win.
"We went man-to-man and that was effective enough, then Rushie made a run between me and Andy Thorn, I tried to play him offside and Ian wasn't buying that and dinked it over Nigel [Martyn]. You could see that a few of their guys were expecting a sackful now but we had a point to prove.
"Rushie went off before half-time with a rib injury [courtesy of O'Reilly] but at the break it wasn't doom and gloom. There'd been a slip but they'd not been able to dictate as they would have expected. There was a lot of listening to Stevie Coppell and a real determination to have a go because you don't come that far to give in."
Liverpool 1 Palace 0
"I was always quite quick and keen to get forward and Coppell told me to get at them down the right. It was their kick-off, I cut it out, then Andy Gray just shouted 'Go on, son' and waved me past. Off I went.
"I remember beating Steve Staunton and David Burrows; I knew I had the legs, so I just knocked it. As I ran after it I was just telling myself to make sure it gets into the area.
"It did; John Salako had the first attempt and then Mark Bright hammered in the rebound from the edge of the area. Kenny Dalglish hadn't even got to the dug-out. He was standing by the bench looking blank and drained, with 'what the hell's gone on here?' written all over his face.
"We'd caught them cold and they never really recovered. Liverpool had some world-class players but they lost it. They couldn't defend from set-pieces and, halfway through the second half Gary [O'Reilly] put us 2-1 up after a free-kick.
"Then, with 10 minutes to go, Steve McMahon equalised from 20 yards and then George Courtney penalised me for a tug on Staunton. I thought it was harsh. I've watched it several times since and, as he cuts across me, I put my hands up before he went over. I do catch him but what could I do? John Barnes put them 3-2 up from the spot and you're thinking, 'Well, we've had a good day but they're Liverpool.'
"At one point the ball went dead, 'You'll Never Walk Alone' was echoing round the ground and I remember thinking, 'What am I going to say to the lads when we get in?' I was gutted. Then they panic at another free-kick and Andy Gray nods in an equaliser right at the end. I suppose we didn't know when we were beaten. Brighty ran back to me and shouted, 'You lucky bastard'."
Liverpool 3 Palace 3
"The one thing I always remember was the chairman getting thrown in the bath afterwards. He lost his shoes and it was downhill from there for his pin-striped suit.
"It was a wonderful afternoon, one I will always remember. Steve Coppell told us to keep it tight in the second half but instructions went out of the window.
"I was feeling pretty nervous in extra-time. I remember my hands dripping with sweat inside the gloves; it was just a matter of trying to stay focused. Alan Pardew got the winner with a late header but the game could have finished seven-all.
"I'd only arrived in the November after two seasons at Bristol Rovers, so the step up was huge and there was no time to pinch myself. It was hectic and just passed me by. I've enjoyed some great memories but that game will always be up there."
Liverpool 4 Palace 3
"Ever since Pards scored we'd been praying for the final whistle and, when it came, all hell broke loose. No one had given us a hope in hell and I can't ever remember thinking that we had a chance of winning. We went out there determined not to be embarrassed after Anfield but it was just a great stage on which to play. That team had so much spirit.
"The whole thing was like living in a dream. Only the FA Cup could have thrown that up. The scenes were unbelievable; the standing ovation we got from the Liverpool fans - a year after Hillsborough, that was special - the chairman [Ron Noades] leaping about in the dressing-room with the champagne flowing and our kit man, Spike, sitting on one of the skips crying. He'd been a fan all his life and never thought he'd see Palace get to an FA Cup final.
"I'd been floating on air after 120 minutes of effort but I can pinpoint exactly when the exhaustion hit me. I was sat on the pavement with Richard Shaw somewhere in south London at 10 o'clock that night, eating a beef chow mein out of a polystyrene carton.
"I turned to Richard and said, 'Six or seven hours ago we were playing in an FA Cup semi-final against Liverpool in front of millions, and look at us now. We're a pair of 21-year-olds earning £250 a week, sitting on the kerb eating Chinese. Nobody's got a clue who we are. I'm knackered. I'm going home.'"