February 19 2008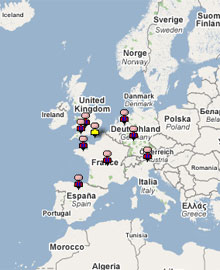 Find out where members of the site live using our brand new section, 'Where are ya?'
Have you ever wondered whether there is a Palace fan just around the corner from you?
Now you can find out with our latest section 'Where are ya?'.
Based on Google map technology we have built an application which enables you to see where members of the site live, and also gives you the ability to add yourself to the map.
If you click on each 'pin' on the map you will also see how far away each member is from the home of Crystal Palace football, Selhurst Park.
Who lives the nearest to Selhurst?, and who lives the furthest away? - It's all just a click away!
The new section has its home under the 'Selhurst' main section at the top of the site.
So get started and tell us, Where are ya?
Note: For anyone worried about adding themselves on the basis of security we have restricted the zoom level of the map so that people can roughly know where you are but not exactly.