February 22 2008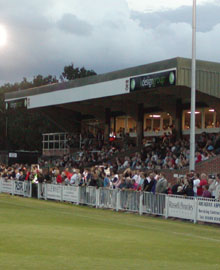 Crystal Palace reserves had another stalemate - this time at home to local rivals Millwall.
The Eagles fielded goalkeeper Craig Ross on trial, while academy forward Adam Jupp made his second appearance of the season.
Injury-plagued Rhoys Wiggins returned to the line-up alongside winger Lino Goncalves and Bradley Hudson-Odoi who were recently let go by Fulham.
Palace threatened early on through Goncalves and Aaron Dalhouse but it was Millwall who went closest to scoring when Ross Gaynor's shot was pushed out by Ross.
In the second half, Victor Moses fired a low shot just past the upright as Gaynor had two efforts for the visiting side.
Ross was then called in to action to save Gary Bowes' header from a Millwall corner. Gaynor was the danger man again as his strike smashed against the crossbar before Ross thwarted him again with one save and another tipping over the bar.
The second string are next in action at Leyton Orient on Tuesday.
Palace: Ross, Dalhouse, Wiggins (Abnett 60), Swaibu, Hughes, Sweeney, Smith, Moses, Kudjodji, Jupp (Hudson-Odoi 60), Conclaves (Robinson 76),
Not used: Adelakun, Thorpe.