March 18 2008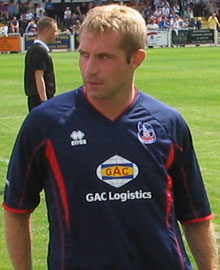 Crystal Palace striker James Scowcroft admits he's been impressed by Neil Warnock's man-management skills.
Warnock has led Palace from the relegation zone to the brink of the play-offs since taking over from Peter Taylor in October.
After Warnock saluted goal-scorer Scowcroft in Saturday's victory over Barnsley, the burly target-man has returned the favour with praise for his gaffer.
"I think one of his [Warnock's] best assets is getting the best out of players and mentally working with them," said Scowcroft.
"Maybe he's got that extra five or 10 per cent out of me, but he's got that out of everybody. And in a league that's so competitive and so even that makes a big difference.
"If we're playing well, whoever we're playing against I think we'll be alright at the end of the season.
"We had a great run then we had a little dip but hopefully we've overcome that now. If we can stay unbeaten from now until the end of the season I think we'll have a good shout."
The 32-year-old former Coventry player was thrilled to notch his 100th career goal at the weekend.
He said: "It wasn't really something I was thinking of. Someone told me a few weeks ago and it's a nice milestone but hopefully I'll go and get 101 next week.
"It will be one of those that when you've finished you've played x amount of games and scored x amount of goals so I suppose maybe later on it's something I will look back on and it's something to be proud of."