March 20 2008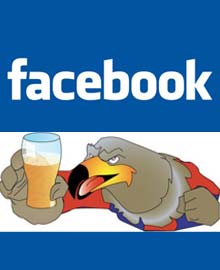 It seems the whole world has gone crazy about Facebook and the Holmesdale Online now has a presence on the social networking site.
Two things you must do
1. Join the official Holmesdale Online Fan page here
2. Then become a member of the Holmesdale Online group here
Sign up to the best of the rest
3. Crystal Palace Worshippers click here
4. Dougie Freedman Appreciation Society click here
5. Simon Jordan's mouth appreciation group click here
6. Crystal Palace FC click here
7. Clinton Morrison Love Club click here
8. Victor Moses next English wonderkid click here
9. John Bostock Palace Hero click here
10. CPFC [Crystal Palace Football Club] click here
11. WE HATE BRIGHTON GROUP click here
12. Stand Up If you Hate Millwall! click here
*If you want to share a story with your friends, then click on the Facebook icon at the bottom of each page.

* Join the Holmesdale Online's Bebo page: www.bebo.com/holmesdaleonline