April 16 2008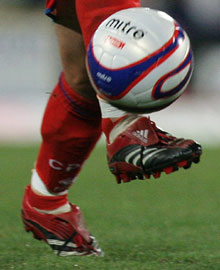 Clint Hill admits moving to Crystal Palace has kick-started his career.
The 29-year-old defender endured a frustrating time at former club Stoke City where he was plagued with injuries during his four-year stay.
Hill was named Player of the Year in 2005 and was a reliable performer for the Potters, but believes his transfer to Palace in November came at just the right time.
He has made 26 appearances for the Eagles, scoring three goals, and has managed to remain injury free.
"Moving to Palace was the best thing for me - I think I needed a bit of a kick up the backside," said the Liverpool born ace.
"I needed a fresh start, as I say, I think I've had a few dodgy games but I think I've done all right.
"I'm surprised that I've played the number of games I have done this season - to be honest I think everyone is.
"It was hard for me at Stoke because of how often I was injured. When I got to the 15-game mark this season I have to admit I was knackered.
"It was difficult but I had to keep going and take one or two days off training for me to be right for the games.
"I will be the first to admit that at times this season I've not played very well because of the fatigue."