May 14 2008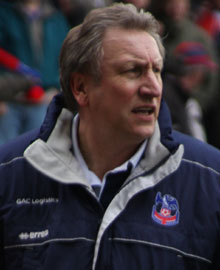 Our adventure has come to an end. On the night, we had a bunch of heroes at Ashton Gate, who played one of the league's better sides off the park, writes Simon Pophale.
It is ironic, that two injury time goals from the same team this season could have such a bearing. Had we not conceded in the league match, we may have finished above Bristol City and with the home leg second, might the outcome have been different?
Had we gone to Ashton Gate at 1-1, the 1-0 win would have been enough at 90 minutes, but I digress. This is not about what might have been, but what the future now holds.
I hope that Bristol City go all the way and get into the Premier League now as 28 years is a long time without playing at that level, so good luck to them.
But for us, as one adventure ends, another begins and the challenge for Warnock, is to keep this side together. Many clubs are eyeing our young talent but I firmly believe that if we keep them at Palace, next season we could go up automatically.
There are clearly signs that the writing is on the wall for some players, who do not get a look in to the first sixteen, never mind the first eleven. Players like Mark Kennedy and Shefki Kuqi, probably wont grace the pitch in our colours again, while there may be others who could be let go.
The boo-boys who seem to have it in for Ben Watson, might say he cost us the win. Yet, it should be remembered, that his goals not only started the rout of Burnley, but drew us level in the first match and had us going into extra time in the second leg, so if anyone was responsible for us to be in the position to win, it was Watto.
Would many of us have predicted that we would have been in the play-offs at the end of the season? Under Peter Taylor, it all started so well, but went wrong very quickly.
The team that graced the pitch against Leicester was very different that thumped Burnley. We were going nowhere fast with Taylor, but with Warnock the trend is only upwardly mobile.
I don't think that I have ever been as proud of the team as on Tuesday night, even though they were defeated. The qualities that Warnock has instilled in them, or nurtured what lay dormant in there, has shown to every Palace fan that while losing is difficult now, how well this team and this group of players can do next year.
Without being Mourinho-esque in saying "the best team lost", despite the goals we conceded – two screamers, a sublime finish from Lee Trundle (even if he is fat, round and cost a million pounds) and a well worked set play, Warnock has brought the heart of Palace back onto the pitch and onto the sleeves of the players.
Two words for Warnock and the players – thank you.