June 27 2008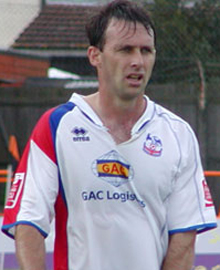 As the Euro nations tournament ends, the July football vacuum is nearly upon us, reflects Jamesey.
When I opened my post to reveal two tickets, one for the Dougie Freedman testimonial versus Fulham (July 29) and the other for our Filbert aperitif against Leicester City (Aug 2), I almost bought the illusion that the new season was nearly here.
But, of course, the hot month (usually) of July has yet to pass and it'll be a while yet before the real business gets underway at Selhurst Park.
I have pondered before on the sad fact that yesterday's fresh-faced Palace hopeful soon becomes today's veteran.
And from my own vintage standpoint, Dougie Freedman is another classic example.
The young Dougie arrived at Selhurst from Barnet in 1995 and the 21-year-old made an immediate impact, soon proving himself to be a striker of intelligence and tactical nous.
He left us for Wolves and Forest for a few seasons and returned in 2000 at the behest of then-manager Alan Smith.
Dougie's skill and goal-scoring abilities need little further mention here.
Over the past eight years, in his second spell, he has graced his Eagles shirt and will certainly be primarily remembered for his goal against Stockport County in 2001 which made possible our last-ditch survival in the second tier of English football.
As I write, I understand he is to meet Neil Warnock to discuss what, if any role, he could play next season.
At 34, he is, of course, a veteran in football terms, and I feel he would be wise to retire as a player and try to grab a role on the coaching staff to keep him at Selhurst.
Whatever happens, Dougie Freedman has been a loyal and dignified servant of CPFC and a much loved and respected player in his long career wearing the red-and-blue.
I spent a good chunk of June in the Greek islands and watched a lot of Euro games in the bars and tavernas of Mykonos, Naxos and Tinos.
Despite the English non-presence I enjoyed most of the matches more than I expected, particularly some of the more spectacular games like Holland v Russia.
It is sometimes quite nice to be non-partisan and just enjoy a good game of football.
A slight problem for me was the lateness of the second games as Greece is two hours ahead of us here.
So after a tasty taverna dinner, washed down with local barrel red wine at 3 euros a jug, I found myself settling down for the 9.45pm kick-offs with a glass of my favourite Hellenic tipple, a glass of ouzo, frequently followed by another.
Unsurprisingly my memories of some of the second halves are somewhat hazy and undefined. Happy summer memories to be nurtured on a freezing cold January day at Selhurst...
---
Email Jamesey with your comments to Jevans3704@aol.com
In Depth Jamesey's Veteran View Index