July 8 2008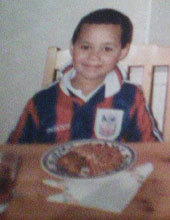 Crystal Palace chairman Simon Jordan has slammed a Football League tribunal after they ruled Tottenham must pay just £700,000 for John Bostock.
The fee could rise to £1.25million depending on appearances and that has angered Jordan who wanted £2m for the 16-year-old, rising by a further £2.5m.
Bostock, a Palace season ticket holder, opted to join Spurs in May after rejecting a contract at his boyhood club where he had been nurtured since the age of seven.
"For a tribunal to reward a purportedly bigger football club in Tottenham to take one of the most gifted young English players in the country for a sum of £700,000 is nothing short of scandalous,' said Jordan.
"You get players like Aaron Ramsey, who has gone for £5m from Cardiff to Arsenal because that is the UK transfer market.
"The tribunal, in my view, are supposed to reflect the conditions of the transfer market place. And they came up with a figure of £700,000 for a player who has captained his country at Under 17 level, who is perceived to be one of the best youngsters in the country and is being chased by Barcelona, Arsenal, Manchester United and Chelsea.
"We had a £900,000 offer from Chelsea when he was 14 which we turned down. It's beyond me and it makes me question why I bother with football.
"I have an academy who have produced a world-class footballer for someone else and got paid two-and-sixpence for it. We weren't unrealistic - we didn't try to be clever and put a value of £5m on the player.
"We simply said this is what the player is worth, these are the reasons why he is worth it and all we wanted was a fair and equitable outcome."
Bostock became Palace's youngest-ever player when he made his debut aged 15 against Watford last October.
And Jordan believes the youngster could have improved his development with regular first team football with the Eagles next season.
"The most disappointing thing is we had a player we nourished and cherished for nine years,' said Jordan.
"He's a player who cited his desire to be the youngest ever to play for Palace, which he achieved, and to be the youngest captain of Palace.
"He was looked after for a long time with bespoke training specifically for his development. It was John Bostock's year next season at Palace and we weren't going to sign central midfielders because we wanted to clear a path for him.
"He'd have got into our team this year and established himself as a first-team player at a big club. I'm not so sure that's going to happen for him now."