July 10 2008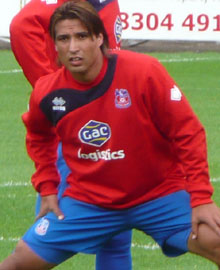 The arrival of Nick Carle prompted Phil Lewis to think about other Aussies who have played for Crystal Palace in the past 10 or so years.
Defender Kevin Muscat played 53 times for Palace between 1996-7 scoring three goals. He will best be remembered for his poor disciplinary record and was often called "the most hated man in football".
Although Muscat is listed as born in Crawley he was an Australian international. It is doubtful if many at Selhurst, or at many other clubs, have fond memories of Muscat.
Left-sided midfielder Carl Veart made 59 appearances for the Eagles between 1996-7, scoring six times. He joined Palace from Sheffield United where his scoring was better - 15 goals in 66 games, a record that doubtless prompted his signing.
The second coming of Terry Venables as manager in 1998, fresh from his reign as Australian national manager, saw the arrival of three more Aussies at Selhurst: Nick Rizzo, Craig Moore and Craig Foster.
Left winger Rizzo arrived from a spell at Liverpool, where he didn't appear in the first team. He played 58 times for Palace between 1998 and 2000 and netted three times - one of which I remember vividly. It was a 30 yarder which fizzed into the net at the Croydon Advertiser end just in front of my seat!
Midfielder Foster played only 14 times for Palace in the period 1998-2000, scoring three goals. He is now a sports commentator on Australian TV.
It always surprises me that lists of the best Palace players don't include central defender Craig Moore. In the year that he spent with us (1998-9) he played 24 times (three goals).
His classy, polished defending always looked as if it belonged in the top flight, a view that subsequent career moves to Rangers, Borussia Mönchengladbach and Newcastle confirmed.
More recently, the Selhurst Aussie list was boosted by Tony Popovic and Anthony Danze. Danze, of whom Iain Dowie had high hopes, made just two Carling Cup appearances between 2004 and 2006.
But defender Popovic was much more successful. He played between 2001 and 2006, making 123 appearances and scoring six goals. Popovic will be remembered as a solid defender who was a towering presence at corners. For a time he was also club captain.
Let's hope that Carle's performance for Bristol City in the Championship game at Selhurst in January is typical of the displays he will give us in his Palace career.
* In this brief review I cover seven players. There may be some I have missed. I would be pleased to hear from anyone about a player I have overlooked, or any other errors I have made.
Email me at: pjljal@gmail.com