July 16 2008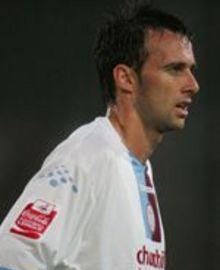 Dougie Freedman has spent 10 seasons with Crystal Palace and some fans share their memories of the striker.
Smokey
The Doog was born to be a Palace legend.
I remember that frequently on the way home from Selhurst in the very early 90s, Capital Gold would report on Barnet's game and it always seemed to be Dougie banging them in. I thought at that time he sounded like a player I'd like to see at my club so was very pleased when he signed.
The goals (among the many) that stand out for me are v Wolves in the play off semi-final home leg. Very balmy afternoon and The Doog sublimely placing the ball over their keeper to make us all turn mental, a beautiful lob over the Pompey keeper about four years ago and of course "The" goal last gasp against Stockport to keep us safe from relegation.
I've met him at the training ground and he's ridiculously nice to boot. Happy to chat and let us get a couple of pics with him. The one of me and the Doog has pride of place on my wall.
JeffBourne
Dougie is one of the most exciting and entertaining players that I have seen grace the Selhurst pitch in 40 years. The Stockport goal is probably THE most important goal in the history of Crystal Palace FC.
A fond memory I have is watching his first half hat-trick in a 5-0 win at home to Grimsby, under the floodlights. One of the goals was coolly played into the net with his knees.
My son Ben was the Palace mascot away to Burnley in the 2006/07 season, and has a picture of Dougie and him on the pitch at Turfmoor, which takes pride of place in his bedroom. It has been a pleasure to watch a master craftsman such as Dougie Freedman. What a player!
Palace Passion
He is Mr Crystal Palace! He saved Palace with that special goal in the dying minutes against Stockport. He has scored so many spectacular goals in his Palace career.
When ever I see the number 9 I think of Freedman. He is a Palace legend and deserves a statue or something at Selhurst that Palace fans can look at to remember his career by.
Dougie has such a clever footballing brain and is a very creative footballer and also a very friendly person. Thank you so much for everything Dougie, your a true legend!
GJDCPFC
I actually told my girlfriend now wife that I loved Dougie Freedman more than her. Something my best man was happy to inform a 100 people on my wedding day. I have to agree with Smokey though two memories of the Doog stand out for me
1) Stockport - Only one person believed and cared enough about the shirt and the club that day to make sure we didn't get relegated. Something we would of taken decades to recover from.
2) Despite knowing he wouldn't play ay Wembley due to suspension still managed two top class goals against Wolves in the play-off semi-final first leg. The Doog a Legend.
frostyuk
Well what can I say about Dougie that hasn't already been said? People use the word legend to easily these days and for fly by nights but the Doug deserves it.
The guy is a true professional who clearly has a love for the club. Theres so many good/great goals that hes scored that its hard to pick just one or two (Palace a dvd with all of Dougie's goals on it please).
The obvious ones have to be the two against Wolves in the play-off semi final and the goal against Stockport. Does anyone remember his equaliser a couple of seasons ago away to Wolves?
One of the most ironic goals was his one against Charlton when we were relegated from the Premier League. He came off the bench (where he was left for too long that season) and after a few touches lobs the keeper looking to have kept us in the top flight only for us to concede a shocker late on. So much joy with so much pain.
I never actually got to meet Dougie but from what i've seen and what everyone else says he seems a great guy. Shame he never played more for Scotland but I guess their loss was our gain. True great.
* Dougie Freedman's testimonial match is against Fulham on Tuesday, July 29 at Selhurst Park. Ticket prices are £10 adults, £5 concessions and are on sale at the box office. Call 08712 00 00 71 or book online at www.cpfc.co.uk