July 21 2008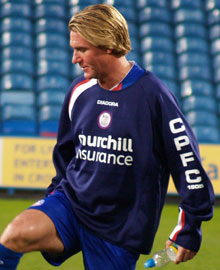 So Simon Jordan has had it with football. Good news for the likes of David Gold, player agents and Charlton - bad news for those who care about the state of the English game, says Ed Aarons.
After all the high-profile spats of the past eight years, it took the departure of 16-year-old John Bostock to signal the beginning of the end for Jordan's tenure at Selhurst Park, with Palace receiving an initial £700,000 in a deal that could eventually be worth £1.25 million.
On the surface, that might seem a decent deal for a teenager who made just one start in the Championship last season but the reality is that Bostock had been trailed by some of the world's leading clubs for some time - Jordan even rejected a £900,000 bid from Chelsea two years ago.
Having decided to invest his cash in nurturing the stars of the future rather than buying in talent, the settlement was the ultimate kick in the teeth for the Palace chairman.
Characteristically, Jordan has outlined his outrage at the tribunal's decision to the nation's media and has now decided to go through with his previously stated intention to sell the club by the end of this season.
This is despite this statement on taking over in 2000, when he declared: "I have achieved exactly what I set out to do, and that is to be Chairman of Crystal Palace. I have been prepared to put my money into something I truly believe in, and my first job is to turn the fortunes of this club around."
£39 million and eight managers later, the boy born 100 metres from Selhurst Park wants out. And who can blame him? Three years of manager-swapping and underachievement were transformed overnight by the arrival of Iain Dowie in 2003 as Palace surged into the Premier League, only to return from whence they came a season later.
In a warning to Bostock, teenager Wayne Routledge rejected a bumper new deal to join Spurs instead, going on to make just 47 appearances, mainly on loan to Portsmouth and Fulham.
Andy Johnson was the undoubted star of that team and the England international was persuaded to remain at the club with a new contract worth £25,000 a week, funded directly from Jordan's pocket. When he inevitably departed at the end of the season with Palace failing to gain promotion, Jordan faced a dilemma over how to use the £8.5million transfer fee received from Everton.
Should he plough the money straight back into the team or invest elsewhere? With Palace still guaranteed around £6million in Premier League 'parachute' payments for 2006/7, the chairman decided to use the cash to fund his secretive purchase of the ground and fund the opening of a new youth facility at Crystal Palace Sports Centre in April 2006.
Opened by Sir Trevor Brooking, the centre now provides a state-of-the-art indoor and outdoor pitches that have been a vital factor in attracting local players to the club. John Bostock was one of the first generation to emerge from this background, with Victor Moses, Lee Hills, Sean Scannell and several others now pushing for first team selection under Neil Warnock.
By contrast, Palace's fortunes on the pitch showed steady decline under Peter Taylor before Warnock transformed them after arriving in October 2007.
Initially it was the old values of honesty and hard work that lifted the club away from the relegation zone but the introduction of young talent to the squad after Christmas gave them the extra quality required to eventually seal a place in the play-off.
Bostock may have made only four appearances in total including becoming the youngest player in Palace's history aged just 15 years and 287 days but he was seen as the 'jewel in the crown' and was anticipated to become a major force in central midfield next season.
Instead, Bostock will more than likely be turning out for Tottenham's reserves next season, with the likes of Luka Modric, Jermaine Jenas, Didier Zakora and Tom Huddlestone all vying for selection by Juande Ramos.
Surely he would have been better served waiting a season to gain some invaluable first team experience in surroundings he has grown up?
Jordan's commitment to walk away from football in reaction to the transfer may be seen as sour grapes by his numerous enemies but he clearly felt it was time to make a stand.
In this era of ever-increasing foreign investment into English football, boyhood fans who invest their hard-earned fortunes in their local clubs are a rarity who should be encouraged.
Most supporters would love to have the chance to bankroll their club but never get the chance. If football keeps going the way it is, only Russian oligarchs ever will.