August 3 2008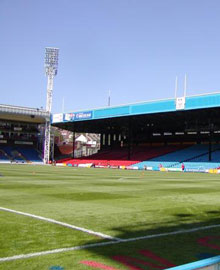 Leicester City were CPFC's final opposition before the real thing starts on August 9. Jamesey was at his post.
Maybe we have been spoiled in recent years? But pre-season games against the likes of Everton, Boavista, West Ham, Chelsea, Sporting Lisbon, PSV and Anderlecht have been tempting fare indeed.
With the greatest respect to the Foxes, our Saturday date (Aug 2) with Leicester City, now in the "third division", didn't exactly set the blood pressure soaring.
In the event, about 2,000 turned up, including your dedicated columnist. Well, somebody's got to do it.
With the Main Stand open and a sparse smattering of away supporters in the Advertiser end, I was reminded of those distant days in the early 80s when the shouting of the players drowned out the noise of the tiny crowds.
Anyhow, if we were expecting an easy ride we were due for a disappointment.
The Foxes outplayed us in the first period, and if the CPFC players who ran out at the opening whistle were Neil Warnock's first team choice, as I suspect is the case, an awful lot of work remains to be done.
They were ragged and uninspired and it was left to the brilliance of Julian Speroni in goal to prevent us reaching half-time at a far greater disadvantage than 0-1.
Having said that, if Nick Carle continues in the same vein as he revealed, Ben Watson will not be missed one iota.
In the second half, the large scale substitiutions which make the spectacle frustrating for the spectator but, hopefully, revealing for the manager, looked better from an Eagles viewpoint.
Sean Scannell was dangerous and, of course, combined with the always menacing Victor Moses to create the latter's equaliser for a 1-1 draw. And both 17-years-old too. What superb prospects for the club - if we can keep them.
Personally, I quite enjoy the goal scoring ritual, "Victor Moses... Victor... Moses" between the commentator and the crowd but sticking "Glad All Over" on top as well seems to be rather over-the-top gloating.
I don't want to be a miserable old git (who me?) but it is often best not to tempt providence.
---
Email Jamesey with your comments to Jevans3704@aol.com
In Depth Jamesey's Veteran View Index