August 4 2008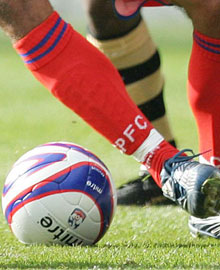 The Holmesdale Online Prediction League is back for another season.
Guess the half-time and full-time scores for Palace's league and cup matches each week - the first game runs until October 31.
Points are awarded for the correct result and exact scoreline and you can go back and ammend your scores before the match if you change your mind.
It's such an easy game that anyone can play and just takes a minute of your time to enter your predictions. After each match, the leaderboard is updated with the latest standings.
NEW for this season is an email alert function which sends you a reminder in case you forget to predict, meaning you'll lose out on valuable points.
Go to "Email Alerts" on the Prediction League page or edit your profile here ticking the Prediction League alerts box.
The first match is against Watford this Saturday. Do you have what it takes to become an expert tipster?