August 5 2008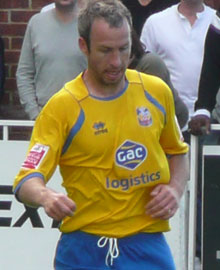 Shaun Derry has been named as Crystal Palace's new captain for the forthcoming campaign.
The midfielder takes the armband from last season's skipper Mark Hudson who left for Charlton in May.
Derry, 30, was in superb form last term when he rejoined Palace for a second spell, initially on loan from Leeds, then the deal was made full time.
He beat off experienced teamates Clint Hill, Matt Lawrence and Paddy McCarthy for the role.
Palace manager Neil Warnock said: "Fortunately, or unfortunately, depending on which way you look at it, I think we've got three or four great captains at the club.
"But I just think Shaun has been more involved off the field, I've spoken to him a few times about things and I think he is just the type that we need, particularly with the youngsters."