August 6 2008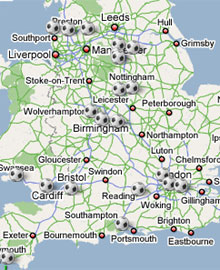 We've revamped our Away Travel Guide with a fresh new look for the new 2008-09 campaign.
New for this season is interactive Google Maps showing the location of each ground in satelite view, map view or both. The maps can be expanded, moved around plus zoomed in and out.
Another new feature is Google Map directions. Simply enter your postcode and you will be given car directions to the stadium from your doorstep.
Large multiple images of the stadiums are now available plus the usual best places to drink, eat, park your car, ground info, train details and songs to sing.
It is located in the Season 2008/09 tab at the top of the page or click here
We're pretty pleased with the fresher design, but need your feedback on ways to improve the section, update any old information or send in details to improve the guide.
Email editor@holmesdale.net
The Away Travel Guide can be viewed on our mobile phone site which is handy on the way to games: http://mobile.holmesdale.net