August 10 2008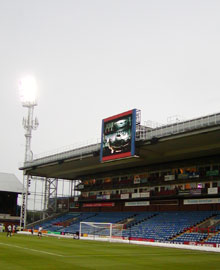 It wasn't the sort of opener to a new season that we were hoping for. Jamesey had squelched down to Selhurst with a hopeful heart.
The first game of a new season is always a time for optimism.
And after the last campaign when things gradually got better, most of us were confident of a flying start.
But football doesn't always deliver the expected package, and we witnessed a dreary 0-0 draw with Watford against a backdrop of dank, drizzling weather.
After a succession of sizzling summers, for my generation, the damp and blustery August weather is reminiscent of the traditional British holiday season... grey skies, rain and cold feet - all the reasons why the costa package tours thrived from the 60s onwards.
My Poundland umbrella gave up the ghost outside the Lap Hing chippie and expired as a mangled cadaver of cheap cloth and metal. Damp cod and chops, sitting on a wall in Whitehorse Lane is not the greatest gastronomic experience.
But all that was irrelevant because what we had come to see was a vibrant Palace team ripping Watford apart, our two wunderkinder, Victor Moses and Sean Scannell, ably served by big James Scowcroft, streaking down the wings, with Tom Soares, Shaun Derry and Nick Carle bossing the midfield and foraging for goals as well.
I must admit that in the three pre-season games I attended I was not over-impressed with the Palace performances. But what can you really tell from friendlies, as managers always point out?
In reality, what we got, of course, was a somewhat lacklustre display where nobody seemed to gel with anyone else.
One of the most entertaining moments of the afternoon was the mass brawl in which the white-shirted players showed far more verve and animation then previously.
It was depressing to see Julian Speroni, dribbling the ball a few yards out of his area, usually to hoof it straight to the Watford defenders. A brilliant piece of coaching from somebody as I have never noticed him doing that before.
Anyhow, it is far too early to be too downhearted and I will be among the inevitably small band of spectators to watch our Carling Cup game against Hereford Utd on Tuesday evening. Perhaps we will look rather more cohesive by then?
And, of course, the No 9 shirt is still waiting for a claimant. If it could be filled by a goal-scorer of class and quality, there could be brighter times ahead.
---
Email Jamesey with your comments to Jevans3704@aol.com
In Depth Jamesey's Veteran View Index