August 17 2008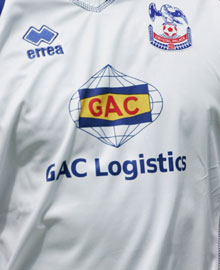 Crystal Palace tasted their first defeat of 2008/09 against Preston - but how badly did the players do?
Speroni 7
Usual faultless performance. Their first goal was a right scramble so couldn't really see who was at fault, although I'd be surprised if it was Julian as it was a case of them bombarding the goal until they drove it home.
Butterfield 8
A much improved performance than last week. On two occasions in the first half he saved us from conceding with a saving tackle and a dramatic goal line clearance when Speroni was beaten. His forward play was much better too and put in some decent crosses once we were one down and decided to go for it.
Hill 6
Committed as always. Got a booking early on for taking Preston's winger out after Hills messed up and gave the ball away with Preston a dangerous break forward. Not sporting but who cares it was the right thing to do from our perspective.
McCarthy 7
Another impressive display. Never put a foot wrong, and actually showed composure when in possession with the right choice of pass, which was something you could never say about Mark Hudson.
Lawrence 7
A better performance than last week, and in fact although personally I'd rather have had Jose Fonte playing instead, I cannot say Lawrence really put a foot wrong. Always strong in the air and in the tackle. Couldn't fault the defence really because I felt the rest of the team never really did them any favours.
Hills 5
A lot of effort but a poor game. To be fair to him he was playing left midfield and he is no midfielder. He does get himself into some good scoring positions mind you, and oh so nearly scored on the stroke of half time but for a great save from their keeper, but he just hasn't the tools to play in that a position.
Derry 7
Played well. Some lovely touches to Nick Carle. Did his defensive role well and couldn't really fault him. He's not in the team to create but to break up play and distribute it to the forward midfield players which he did well.
Carle 7
Tenacious and always involved in all our moves. Tried desperately to create but just didn't have the back up. Really needs a more intelligent midfield partner than Tom Soares to make him flourish, and I just feel there's too much weight on his shoulders.
Soares 5
The thing about Tom is you'll get 90% of ineffectual football from him- not really creating, imposing himself on the game or getting properly stuck in. But then you get a sudden burst of energy and he goes past a couple of players effortlessly and looks dangerous and you're left wondering 'where did that come from?'. When he receives the ball it takes him an age to control the ball and get moving.
Oster 6
Obviously got good ability on the ball but found him quite ineffectual. Maybe needs more games to get in the swing of things, but with him on one flank and Hills on the other we really looked weak and lightweight on the flanks. Once we went for it after conceding he did get involved and showed some good touches and quick thinking, but I'd rather have seen Scannell in that position.
Scowcroft 5
A very poor first half. Wasn't winning hardly anything in the air and looked very slow and clumbersome. We desperately, desperately need that big center forward, with a bit of speed and guile about him that can hold the ball up, bring others into the game and take the pressure off our defence. I don't need to tell anyone this but Scowie is not that man.
SUBS
Moses 6
Came on once we went a goal down. Didn't really have the chance to do much, but still stretched their defence and gave them a few problems even if there wasn't an end product.
Andrew 5
Came on for Carle and played up top with Scowie. Had one shot that he blazed well over. Unfair to comment on his game with so little time to prove himself.
Ifill 5
Came on for Oster. Even shorter time to prove himself. Looked sprightlier than last week, although that may have been an illusion as the other players had already endured nearly 90 minutes. I do believe he took a knock right at the end of the game.
Ratings by Nick Timotheou
Do you agree? Rate the players' performance here