August 31 2008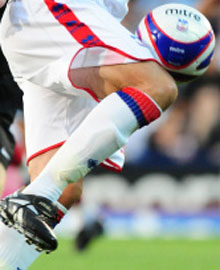 Crystal Palace crashed to another defeat, this time at Reading. How did the players fare?
Speroni 8
Apart from one kick going out of play in the second half, didn't do a thing wrong. Not at fault for any of the goals and deserved to have a more competent defence in front of him. Kept the score down in the second half with some great saves.
Butterfield 6
Didn't seem to know whether to stay tight to his man or drop off. Didn't manage to get forward too often and was often found outnumbered when Reading attacked down their left.
McCarthy 6
Didn't look as comfortable or composed as in previous games. Partnership with Lawrence looks like it needs time and work. Went off at half time.
Lawrence 5
Hasn't started the season like he finished the last. Understanding with centre back partners doesn't seem to be there and he doesn't have the pace to cope when attacked by a quick forward. Constantly aimless long balls upfield drove supporters mad.
Hill 7
Knows his limitations as a footballer but always works hard and seems to feel the same pain as supporters when we concede. Moved from left-back to centre-back at half time when McCarthy went off and wasn't helped by Lawrence' uncertainty and Hills' lack of match fitness.
Oster 6
Some good running and passing, but also quite a few wayward passes. Looks to be a useful squad addition but doesn't seem to have the pace or confidence to take a full-back on and run at them.
Soares 6
Didn't give the ball away cheaply and worked hard, but like many of Tom's games, you could have watched a large chunk of the match and forgotten he was on the pitch. Got into some good attacking positions but never tested the keeper with a shot apart from the goal.
Derry 5
Like Lawrence, hasn't started the season well. Gave the ball away too easily, looked slightly off the pace in central midfield and not the same player we had on loan from Leeds last season.
Carle 8
His best game in a Palace shirt. Composed on the ball, had the confidence to shoot from outside the box and at the heart of each good Palace move. Lack of movement and men up front meant that he often had to go it alone. Fantastic rabona in the first half!
Hills 6
Hills said before the match that he needed games to get himself up to scratch and it was obvious today that he wasn't match fit. Very quick when fit, but beaten for pace on many occasions by the Reading attack who saw him as the weak link in the second half.
Andrew 8
Worked incredibly hard, held the ball up for the midfield to join him and played with the maturity of a 30 year old. Much more mobile than Scowcroft, wins more in the air and looks like a canny acquisition.
Subs:
Lee 7
Like Andrew, held the ball up well and won his fair share in the air. Might have done slightly better with two shots from outside the box but had a presence about him and nice to see someone shoot on sight.
Scannell 6
Not enough time to cause Reading many problems with his pace or have an impact.
Fletcher 6
Like Scannell, not enough time to make an impact.
Ratings by James Creedy
Do you agree? Rate the players' performance here