September 5 2008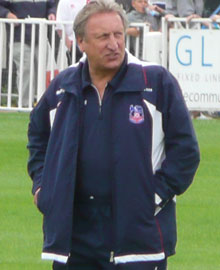 Crystal Palace boss Neil Warnock has spoken of his frustration on transfer deadline day.
Although Tom Soares' £1.25million switch to Stoke City boosted the coffers, the Palace manager would liked to have shifted more players to bring in much-needed cash.
Paul Ifill, Carl Fletcher, James Scowcroft and Shefki Kuqi are all on on the transfer list but the Eagles manager did not get any offers.
Warnock has been told by chairman Simon Jordan that he must sell in order to bring any new faces in and could now loan them out to free up wages.
"I was hoping to free up a bit of money by moving a few of the lads on but that hasn't happened," Warnock said.
"I heard nothing at all on deadline day about James, Shefki or Paul. It's going to be a problem because we've got a lot of players who aren't out of contract until the end of the season but who nobody has come in for, and they're all on good wages.
"I don't know what will happen with them, but if they're not involved in the first-team, it's money down the drain for the club.
"They're all in the squad at the moment but we'll just have to wait and see. We might loan a couple of them out after the weekend to give us a bit more money."