September 9 2008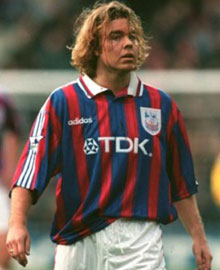 What the devil are Tomas Brolin, Sasa Curcic, Andy McCulloch and Marco Gabbiadini doing these days?
Tomas Brolin (1998)
Tomas Brolin arrived at Crystal Palace from Leeds in 1998 with a huge reputation - but nowhere near as big as his belly. He had European glory with Parma, was voted Swedish footballer of the year in 1990 and 1994, and came 9th in the FIFA World Player of the Year rankings in 1994.
But he piled on the pounds following an ankle injury and struggled to regain the great form from his glory days when he joined Leeds.
The Swedish midfielder showed glimpses of past glories with the Eagles but was unfit and overweight as his career headed on a downward spiral. He made 16 appearances for Palace, before becoming joint caretaker manager with Attilio Lombardo when Steve Coppell resigned.
Brolin retired shortly afterwards and went back to Sweden where he sold shoes and vacuum cleaners on the internet. He set up a property firm with his father and owns a Swedish-Italian restaurant in Stockholm called Undici - meaning 11 in Italian, after the shirt number he wore for Parma. Brolin has also made a record with Doctor Alban and featured in a jacuzzi advert.
Sasa Curcic (1998-99)
The talented, yet eccentric midfielder will be remembered for his platted goatee and pre-match Selhurst Park pitch protest against NATO action in Belgrade.

Curcic joined Palace for £1million after an unhappy spell with Aston Villa. The ex-Bolton star played 25 times and scored five goals for the Eagles before he quit for the USA to play for the Metrostars.
His Major League Soccer career lasted only nine minutes and he was back playing for Motherwell, where he made five appearances. After a brief spell in the Serbian league, Curcic retired from football in 2000 and said: "I have given up football because of sex. I would rather score in bed than on the pitch." In June 2007, Curcic won the Serbian Celebrity Big Brother contest.
Andy McCulloch (1983-84)
Signed by Alan Mullery, the striker netted just four goals in 29 appearances and it wasn't long before he was shown the Selhurst Park exit.
McCulloch now lives near Hampton Court and is involved in coaching a local club side and running an industrial cleaning company in the London area. His career ended when he was badly injured while playing for Aldershot, ironically after suffering a heavy tackle from the great Jim Cannon who was playing for the opposition.
Sent in by Tim Hatton.
Marco Gabbiadini (1991-92)
The striker made his name as a prolific goalscorer with Sunderland and was brought to Palace for a club record fee of £1.8million to replace the departed Ian Wright. Filling the shoes of Wright was no easy task and he was shown the door just four months later after seven goals in 25 appearances.
Palace cut their losses and sold Gabbiadini to Derby for £1m where he had five fruitful years. He went on to play for Birmingham City, Oxford United, Stoke City, Darlington, Northampton Town and Hartlepool United before retiring with a knee injury in 2004. He scored 277 career goals in 792 appearances.
Gabbiadini now runs a restored Victorian hotel in York with his family and won Guest House of the Year in the 1999 York Tourism Awards.
---
If you know the whereabouts of any former players, or can provide us with updated information, then let us know by emailing editor@holmesdale.net