November 7 2008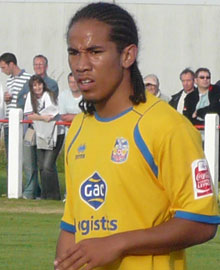 Sean Scannell bagged a brace in Crystal Palace reserves' 3-1 win over QPR in the Totesportcasino.com Combination Cup.
Leandre Griffit fired the Eagles ahead early on with a cool finish past Rangers keeper Jake Cole.
Rhoys Wiggins and Johannes Ertl had almost scored before Scannell stretched the lead on 28 minutes after Calvin Andrew and Griffit combined to set up the Irish youngster to score.
Andrew was involved again as Scannell made it 3-0 right before the half-time whistle. Then Angelo Balanta pulled a goal back late on but it was not enough as Palace progress.
Palace: Wilkinson, Clyne, Wiggins, Comley, Ertl, Hills, Djilali, Griffit, Andrew, Scannell, Moses.
Subs: Thomas, Nnanami, Smith, Bingham, Abnett.
More great features on holmesdale.net
Reserve news, reports, fixtures and tables