July 1 2001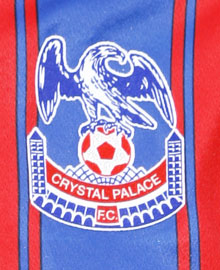 Every Palace fan has their own story about the time they saw the light and became an Eagles fan...
Terry Dempsey
I also had allegiances with another team, although they were not quite as glamourous as Spurs!! My dad is from Hull and used to take me to all the London lower league teams when the Tigers came down to play. Had cousin down in Addiscombe who got free tickets through school for Palace.
I went to a few games in our first year in Div 1 1989, but don't remember any. Went now and then 1995 when I got hooked, still don't know why or what game did it for me.
Pissed off my dad no end as he had plans for us to drive up to Boothferry Park and see his beloved City! Went to first away game against Forest when Damien Matthew scored (remember him!!) and I suppose my love for the Eagles has been getting stronger and stronger since!!
Got Palace tattoo last year with two of my cousins, who, like me, are in a minority in our family with Hull, Millwall and of course the glory hunting Chelscum and Moan Utd followers, who go once a year when Selhurst is turned into a mini Old Trafford/Stamford Bridge when they play the Dons.
---
Matt_Hep
I was born into it and had no choice at all. It's the true way to belong to a team, to be born into it. All of my family lived in South London and went to all Palace's fixtures.
My mum, dad their parents, my uncles, great uncles etc. everyone in the family, has and always will be Palace. From a very early age, I went to Palace and sat in the Arthur. It's my local team I'd hate to support someone futher afield.
I don't know how people can do it, I'd feel really bad looking at the clubs low attendances while I'm off poncing at Chelsea or something. Unless it's your local team to where you were born or where you live now it must feel really bad.
---
Robo
I became a Palace man in 1976 when I was eight, as I was living in South Norwood (Ross Road). I don't think I missed more than 10 home games in the next nine years, till I moved to Rye (East Sussex). Now it's a bit more exspensive with four Palace sons.
And when Simon Jordon brought Palace, it was a bit of a surprise as he was in the same class as me at school.
---
mr_smith
I am only 15 and I started to support Palace after the 1997 play-off final. I live in Hailsham, East Sussex, so I have to travel for one-and-a-half hours to see the red 'n' blue army play at home.
A bloke who sits next to me in the Holmesdale Upper tier comes all of the way for every home Palace match, even the night games, from North Yorkshire. Now thats what I call a loyal supporter!!!
---
MarkHolmes1991
I became a Palace fan when I was 10, shortly after the FA cup final. My dad bought me a Chelsea shirt, which I refused to wear. I knew my allegiances were with the red n' blue army! I started going regularly during our most successful season (1990/91), which is how I got my user name for HOL. Many memories in such a short space of time. Palace til I die!!!
---
spooner1
I've only been supporting Palace since 90/91 season, when a mate of mine suggested I came to a game with him. That was a cup game where we beat Southend 8-0 and I became hooked. Been a season ticket holder now since 92/93 season.
---
worried
I started when I was four, 11 years ago. I chose them because when a relative asked me which football team I supported, Crystal Palace was the first words that came into my head! No one pressurised me! Shame I don't remember the golden days in the early ninties!
---
TommyEagle
Saw my first Palace game in 1989 at the age of eight and ever since then I've been hooked. That game was the infamous game of five penalties against the Seaweed so you can't blame me for coming back for more.
I'm glad I was able to watch Palace loads in the early 90s and see our glorious run of seasons under Sir Steve. Coming from Epsom, it's only a 45min trip to Selhurst, although being a student in Nottingham presents difficulties for getting to home games. I'll never let go of my Blcok B season ticket though!!
---
superbeagle
Sometime in 1968. I was seven and went to school at Park Hill Primary School in Croydon and (a very young) Steve Kember used to come over every Friday afternoon to teach football (anyone out there remember this if you lived in Croydon in 68?)
Managed to see on Palace match before my parents emigrated to Canada in 1969. Returned to London in 1989 and been a season ticket holder since 1994 (Whitehorse). Wonder if Steve Kember remembers me...
---
skinner
My dad took me to a friendly between Crystal Palace and West Ham in 1966. He was a Hammers fan and thought after seeing them I would be the same, but I liked the Palace team better.
Since then I have been devoted to Palace and have had the privilege of seeing some fantastic players plying their trade at Selhurst Park.
It's a bit of a bind living in the middle of Hammers country, but I wear my Palace shirt with pride (no-one bothers me 'cos I'm an old git).
---
pete68
I started supporting Palace 1977, my first game was when we beat Sunderland 2-0. I go to approx 10 games a season with three generations of my family, at least seven of us at any one time.
---
Jamesey
Didn't end up at Palace, started there on the 50s when I was a Croydon schoolboy and Palace were our local team. That's the way it was and that's the way it should be.
Seeing Croydon, Beckenham or Bromley born lads walking the streets in ManUre and Liverpool shirts infuriates me. Well done you younger CPFC lads and lasses for loyally supporting your team against the glory hunters. Palace for ever...
---
saxoneagle
1986, eight years old, Palace 6, Birmingham 0. Surprisingly wanted to go again. My old man was a Chelsea fan but refused to take me there cos "most of their fans are w@nkers" Only too true. Now live in Saxon Road and can see Holmesdale stand from my front room.