July 1 2001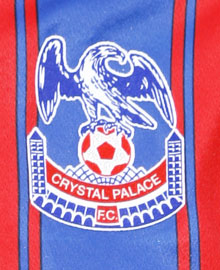 Every Palace fan has their own story about the time they saw the light and became an Eagles fan...
JeffP
I started going to Palace in 1987. Noades had a scheme called "Bring a Pal to Palace" and I was successfully converted from then on. We used to stand on the terraces of the Arthur Wait.
---
TorontoEagle
My dad started taking me when I was about five or six (late 70s)- we used to stand in the Arthur Wait (still my favourite place, and I still recognise some of the people I used to stand near).
I can't remember very well but there was a bit of a gap in us going (dad worked weekends and then started playing football on Saturday) and we started going again in the mid 80s. Bring a Pal to Palace brings some memories back.
---
KenHoddle
Both my parents are from Croydon and my dad supported Palace as a kid, but he switched alliegances to manure about 20 years ago. I started to support Palace when I was about ninne, despite being brought up near Swindon. As soon as I reached 16, I left home and moved to Croydon and will be Palace until I die.
---
maidstoneparrott
My history is the same as my bro's, Spooner1, except I haven't had a season ticket for the last few years, work and family comitment etc etc.
Anyway, first game was the 8-0 drubbing of Southend and due to the failure of our own local team, Maidstone, became a regular for the last 11 years. Held season ticket for five years in the Holmesdale and Arthur Wait stands.
---
Croydonboy
I ended up supporting Palace because Baldini got a job in the lottery office selling tickets at matchday and got me one too. We used to get in free and get paid five per cent for every ticket we sold, so as you can imagine we were not rich teenagers.
My spot was the Sainsbury's stand, in the entrance next to Glaziers and sometimes, if the bloke whose regular spot it was didn't turn up, the boxes in both the Main Stand (before they knocked them down) and the Sainsbury's.
We used to make a packet from doing the boxes as all the businessmen in them were normally slaughtered by 1.30 every game and didn't have the willpower to say no. I can't believe it's 12 years since I started going to Palace, doesn't time fly when you're having fun!
---
Meerkat
Born fifth generation of Palace supporter in my family and I've been going with my dad ever since I was about three. Can't remember first home game, but first away game was Chelsea in the FA Cup '76, where a Peter Taylor brace won it for us.
---
Red_Blue_Stu
I first went to Palace v West Ham in 1984 FA Cup. As a little kid I was a bit of a Spurs fan, but as I was only 11 at the time, my mum wouldn't let me go all the way to Tottenham.
She would let me go to Palace and I was converted straight away, thank God. It's been much more interesting a ride as a Palace fan in the last 15 years than as a Spurs fan!!
---
Lancaster_H
My dad has supported Palace since he moved here from Kenya in the early 1970s. He took me to a game against Man Utd in the 1979/80 season when I was just a baby.
I became an enthusiastic fan during the play-offs in 1989, and will never forget the day we overturned a 3-1 deficit and beat Blackburn at Selhurst.
---
seantheprawn
When I was about four, I supported Tottenham. But I soon realised that they weren't the club for me, and I joined the Red'n'Blue Army when I knew something about football (about a year later).
My first Palace memory was the '90 semi vs the Scousers. My first match was when I was nine in 1997 vs Barnsley (1-1). My best Palace experience was the Playoff Final vs Sheff Utd. That was probably the best day of my life!
---
Marco
Well, bit of a weird way for me. My dad did the travel for Palace when they went to play in Italy during the youth tournament in 1990 (they got to the semi's I think) and so I got to go along too and I was the mascot for the team and only supporter for most matches.
Went on from there basically, Palace were and still are my local team so I just started going to matches every now and then and now I've got a season ticket.
I started supporting Palace cos of my dad. He wasn't a mad Palace fan but he took me to the games now and then. I really started supporting them fanatically when they played in Italy.
Because I am Italian, I went on holiday and conveniently Palace were playing in the Viareggio youth tournament and Southgate, Salako, Gordon, Rodger, etc were playing and I got to be Palace's mascot (just because no one else in Italy knew who Palace were and there were no other Palace fans there).
After that, I was a mad Palace fan and will always be, no matter where they are.
---
WebwiseEagle
OK, so I was just a freak. My dad is a Chelsea fan, my mum hates footy and my sister does too. Born and bred in Croydon I just, dunno, supported Palace. I read the sport on the back of the local paper when I was teeny so I suppose that's how it all started.
---
Old Supporter
Like some of the others here, my whole family (on both sides) have been regular Palace supporters from the time my grandad first went in the thirties.
I have had a numbers of relatives living in Holmesdale Road, Michael Road, Southern Avenue etc. I went to Beckenham and Penge Grammar School and spent most of my teenage+ years going out in Croydon (anyone remember Dr Jims? - always a few players in there!).
It was just natural to support Palace - there just wasn't any doubt about it. The sad thing about it is that many of these people are now dispersed far and wide and, apart from an uncle who officiates on matchdays, I am the only one left who goes to all the games. A sign of the times.
---
Daddy Long
My old man hates football so I spent most of my youth going to rugby matches watching with about 200 other people, Jesus that was shite. Anyway I met this bloke at school who was a Palace fan and everybody used to take the piss out of him and I thought he could do with a hand so one day we kicked the poo out of a couple of Millwall fans in our class.
The day after I went to my first Palace game and the fans were absolutely blinding... fell in love with the club straight away. There you go.
---
alexnicholson
Like some of the rest of you guys it was through my dad and his father before him. It felt natural, and it felt good when younger to support a different team.
Whenever I tell anyone about being a Palace fan, there always seems to be that bit more respect than for most team fans.
---
The Exiled SproutEagle
My fate as a football supporter came to a head when I was four, when my grandad bought me the yellow Admiral away kit around Christmas. My dad always wanted me to support Chelsea as he had been a lifelong fan, but grandad was having none of it.
Lying through his teeth to dad, he sneaked me to Palace v Derby circa 1978, and after a 4-0 win, I was hooked! After that on the odd occasion we went, dad would go too. I'll never forget him calling Jerry Murphy a useless b*****d after he sliced a corner in a game, and I became a bit of a good luck charm, not seeing Palace lose for 13 years on the odd occasions I get taken.
It all came to an end against Sheff Weds when we lost 4-1 at Hillsborough, and I haven't seen them win since! As you may have guessed I don't go much anymore, best not to really!