July 1 2001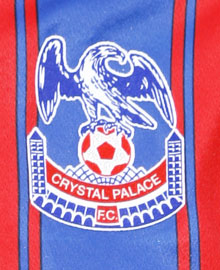 Every Palace fan has their own story about the time they saw the light and became an Eagles fan...
Graham
It wasn't through my dad really. A mate of his from work got my dad to go with him to see Palace play Chelsea in about 1969 and he bought me along (I was eight). We couldn't get in the Holmesdale and ended up in with the Chelsea supporters.
I can't remember anything about the match, but I remember the atmosphere and remember at the end of the game my dad picking me up because of the bottleneck to get out of the gates was a crush.
A Chelsea supporter was forcing his way out by shoving his arms around, which hit me on the head, by which my dad promptley decked the tw@t, which totally impressed me as I had never seen that side of him before.
After that, we went occasionally up the Holmesdale and I was hooked. When I was a teenager, I went to every home game and the occasional away game. I was a ball boy, Palace Guard, everything about the club was the best no other club could give or can ever me what I can got out of Palace.
Moved out to Northampton in the late seventies, but my heart's still down there even now. Done my best to bring up my kids the Palace way, but it feels like I failed as my misguided son follows Crapston Villa and my daughter well at least she follows the team where she was born, Northampton Town. I can't really blame her for that.
I havn't been to a game for a few years but I took my daughter to Oxford when Stevie Coppell had his first game back (won 4-1) and I know that the Palace supporters made a great impression on her and she secretly keeps an eye on how we do, though she will never admit it.
---
gadford4th
I must be one of a few Palace fans who can claim to support them because I was a glory hunter. I was a liverpool fan until 1990, 4-3. I wanted to go to Wembley! I wanted to win something!
I chose to support Palace from that day on. What an idiot I was. Still, I've never regretted choosing Palace to this day, sad really
---
EBO
My old man is Chelsea, his brother is Charlton. Luckily my mother's brother in-law (my uncle!) is Palace and I decided they were the team to follow. First footy top I ever had was the red and blue sash (huge badge) as worn by Vince Hillaire.
Didn't get to a match until 1990, (having followed the lads since the mid seventies, God I'm getting old!!) and got my first season ticket the following season.
I would've gone earlier, with my uncle and cousin but my ma and pa split up and dad was not to keen on going to Palace (the scumbag). At least my cousins on my father's side aren't Charlton, though unfortunatly they follow Arsenal and Ipswich.
---
Attilio
Before World Cup Italia '90, England went on a tour of Australasia and a certain John Salako was selected. His picture duly appeared in our newspaper and I was struck by the appeal of a red and blue kit we all love so much. I've been 100% Palace ever since.
---
colin
My dad took me when I was about 10 (late 70's). Then I moved up to Scotland and started going regularly from early 80's (crowds of 5,000) when we moved to Norwich. Did not miss a game (H/A) for about five seasons - now live in South Norwood and am a season ticket holder in upper Holmesdale.
Best moment: Hopkin from the edge of the Box. Worst moment:- FA Cup final replay. Keep the faith.
---
Eeaagglleess
My grandad is the club statistician and has supported them for well over 60 years. My dad is my grandad's son and I am my dad's son, so I guess you could say it's in the blood! We've all got season tickets, three generations supporting Palace and I wouldn't change it for the world!!
---
crawleyeagle
When I was about five, my dad asked me who I supported. This being 1990, I must have heard a lot about Palace and it just came out. I've been a season ticket holder since 1995/96
---
andy_the_eagle
I've lived in Lowestoft (Suffolk) all my life and loved watching any football at all from such an early age, but never really supported anyone in particular.
My dad's an Ipswich fan and used to take me and my brothers to Portman Road on a regular basis but I never really liked Ipswich, just went to watch the other teams beat them.
When I was about 12, a long lost uncle of my dad's managed to track him down and stayed over Christmas time. My great uncle lived a couple of streets away from Selhurst and was a Palace fan himself so he bought me a Palace kit for Christmas.
This was around the time of Hillaire, Cannon, Murphy etc and I just fell in love with the club. I dont get to as many games as I'd like, but I work in Lowestoft with a bloke from Croydon and we manage to get to a few a season.
---
GerryQueen
Indoctrinated by my dad at the age of five in the late 60s. My three young sons have also been indoctrinated.
---
Ade66
A strange one this.I'm acually from West Wales - an area of little football knowledge or indeed intest.
When I was a 12 year old into football after the 1978 world cup, Palace had a Welsh striker called Ian Walsh and his mum knew my mum and I got into them for that reason.
Besides, there was a brief interest in Swansea, making their only appearance in the old Div 1 at that time.
Worse had haunted me the year before when as the only Palace supporter living in west Wales, I regularly got my head kicked in after the murder of a Swansea fan following a cup replay - ah well they were probably looking for an excuse anyway ;-)
---
cavingeagle
Born in Honor Oak Park and moved to Shirley Park as baby. First went with my big sisters in the mid seventies when Paul Hammond was the keeper and we were in the third division.
I remember my dad coming to two night games and embarassing us with his dress sense. One was at home v Liverpool in a cup and the other was at Stamford Bridge.
Who else remembers Jim Cannon's goal in the 4-1 win over Ipswich to go top of Div 1 in 1979? Just one of many great moments over the years. Least favourite moment was the closing of the Holmesdale terrace, my spiritual home.
---
lingytorquay,palace
1978 I first started following Palace when I was nine, my brother was a Chelsea fan and took me to a game(never again).
My older brother took me to watch Palace play with his friend Paul Davis and we use to stand on the Holmesdale end with these two girls, who used to put me on the bar and I put my arms around their necks.
I was hooked until I moved to Torquay in 1980, but started to go to see them again when I was 16. I have two sons who now follow Palace on the TV until they are a bit older.