July 1 2001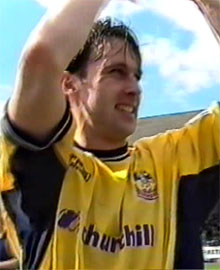 Everyone has their own memories of that amazing day when Palace escaped the jaws of relegation in 2001. Here is a few recollections from some supporters...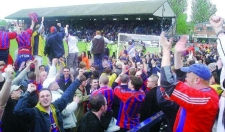 P_Hep
Amazing scenes on the pitch and on the terraces after the game! what a day! incredible! I'm still on a high as you can probably gather! Everyone was singing all the way home and at every service station there was just a sea of red + blue! Talk about contrasts, for 87mins such tension that it was almost unbearable then Dougie pulls some magic and we're 1 - 0 up!!!!!!
---
TommyEagle
I went to ther game with a mate who supports Stockport so it was interesting to get a view from both sides. Anyway, the game itself was something else.
I have never, EVER felt tension like it was in the second half. Wembley '96 and '97 were nothing compared to today - not even Blackburn '89. This was something I'd never felt before - almost physical sickness.
I didnt think we were gonna do it at half time and as the half wore on I became even more doubtful, but when the Dougster's shot flew in it had an air of desitny about it.
I dunno what it was like to watch on TV but being there with the boys was unforgettable. I can barely remember running on the pitch after the final whistle and I still cant quite believe we've survived.
I have a funny feeling though that our club will thrive next season, whoever is in charge.
---
Hull_Eagle
Never known anything like it ... complete rollercoaster ride of all emotions.
Surrounded by people with radio's & mobile phone messages, letting them know how the other crunch games were progressing. Really thought we'd had it when we heard Portsmouth were 1-0 up, then 2-0 then 3-0, also Grimsby were winning.
Everyone was preparing for the worst. From our missed chances we didn't think it would be our day ... then came Doug to the rescue. What a reaction from the crowd when the ball went in - pitch invasion. Can't wait to see it on TV. Lost my programme in the celebrations but who cares.
Absolutely brilliant when the final whistle went (more pitch invasions), everyone trying to grab a shirt from the players ... then an announcement on the PA that we're staying up and that the team would not be coming out! The crowd started chanting "We're not going home" and "Bring on the Palace". Team comes out to great reception from us all.
Good final touch was Steve Kember being carried by the players and accepting the applause from the fans. Well done to everyone who was there...
---
Marco
What a game! What a day! Shame that we had to wait so long for Dougie to score but it was well worth it in the end.
We should have had at least two penalties from blatant handballs and yes our players probably did handball the ball too, so it makes it even.
Amazing clolour with the flags, banners, baloons, ticker tape, brilliant atmosphere. I think the fact that they kept the players in for so long just made it even better. Anyway, great day, brilaliant game, will remember it for a long time!
---
Sammy_the_Eagle
Same as the above. Tension is not even the word for the first 87 minutes, it was nervewracking. When Dougie scored, everyone simply lost it ... brilliant stuff.
But what got me was when our match was over and everyone assumed we were staying up, coz we thought the Huddersfield match was over ... thank f*ck three minutes or so later it was!
Deano too, what a legend, bringing his players out after we were told to leave the ground coz they weren't coming out!
---
palacemad2000
Three weeks before: Impossible
Four days before: Possible
87th minute: Done
The atmosphere was magic and I got a close up on TV. It was like a fairytale when Dougie scored and everyone was so excited, they ran on to join the celebrations. Didn't get on then, but got on at the end, had to push a steward over.
All I have to have done now, is my Save Chip banner on the Soccer AM and im happy all round!
After an atmosphere like that and a relegation fight im proud to be a Palace fan! WE ARE STAYING UP, SAY WE ARE STAYING UP!
---
Kirby
Got off the Mullet Bus - walked to the ground through the streets of Stockport with a beer cleverly disguised as a mullet, queued up, got in. First half wasn't up to much. When Portsmouth/Grimsby went 1-0 up, I really started to brick it. Second half, what an atmosphere!
Created much more chances, but still no goals. Other scores rolling in, Ports 3-0, Hudds 0-1 etc. 87 mins gone, pretty much given up hope - but then......YES!
WHO LET THE DOOOOUG OUT?! WHO WHO WHO WHO! LOVE IT!!!!!
Pretty much straight away it's confirmed to me that Hudds have lost 1-0, this means we have to hold on for another 5 mins! CACKING IT! The ball is headed back towards our goal, Kolinko slips!!!
But somehow manages to keep it out! Ref adds on about 20 mins injury time, then the final whistle is blown!!! Straight on to the pitch!! LOVIN IT WITH AKI RIIHILAHTI!!! Stewards make us go back to the terracing. I look up & everyone is looking worried.
Yes yes, it is infact 2-1 to Birmingham & there's 2 mins to go!! So we find some random bloke with a mobile, he can't make out what the person on the other end is sayin....! A few mins waiting, not knowing what's goin on, then....YES!!!!! A BLOODY HUGE ROAR FROM HALF THE GROUND!!! PALACE STAYIN UP!!!!!!!!!
Singing in the ground for ages 'til the players eventually come out! Everyone chanting: 'THERES ONLY ONE DOUGIE FREEDMAN/STEVIE KEMBER!' BRILLIANT!!! Eventually come out the ground & find the Mullet Bus where we crack open a few shandys & sing our way back to South London! Excellent!
---
ChrisH
The game itself, as you know, wasn't much to write home about, but who cares. The proudest moment for me, personally, was watching OUR captain, Deano, arguing with the stewards. They wouldn't let our boys out in case we invaded the pitch. Deano was livid!
Eventually they succumbed to the pleas of Deano, and allowed our boys to come out. What a guy eh? Deserves more credit than he gets. On another point, it was nice to see the lads carrying Steve Kember aloft. OK, he has only won two games, but he has firmly established himself in the Palace hall of fame!
As for the supporters, what more could the players ask for. We filled the terrace and half of the home stand!! The support was that loud, I don't recall hearing the home fans more than twice during the whole match.
The HOL away travel club, on it's inaugural trip, had an amazing day out. Left 1 1/2 hours after the official coaches and still beat em there!! What was good was seeing two double deckers arrive stacked to the rafters with Palace!!
All in all, a fantastic day out! I'm now going to sit down and watch Miller, to see how many of the Pompey goals he could have saved!! (if he had wanted to!!)
---
HorshamEagle
It was a great day, I left at 6.15am to be picked up by ChrisH in the mini-bus, sprinting it down the road. I was late, great start! All the way up there, everyone on there was cacking it! The bus had to remain dry so we wanted to get there early and buy something to calm our nerves.
In the stadium the tension was building, we couldn't score and scores were filtering through on the terrace, Pompey 1-0, 2-0, 3-0 then Grimsby had won ... But wait, Hudders were losing we had to score. 87 minutes, Dougie went through and burried it! Absolute bedlam, everyone on the pitch, but we were cleared off quickly.
Then the final whistle. I was straight on the pitch, it was a great feeling eveyone hugging each other jumping with joy. Then we looked over to those remaining on the terrace, there was still five mins injury time between Hudders and Brum. We waited, we prayed, then the final whistle went. WE ARE STAYING UP!
---
kat61
What a day!!! Fantastic. I was feeling physically sick in the second half. I couldn't see a goal coming then DOOOUGIEE scores (hope the fella who fell over in front of me is OK, I think he dislocated his shoulder). We deserved that. We battled well & the support was incredible. Edgeley park is one sad ground.
We're staying up, we're staying up, Palace are staying up.