June 29 2001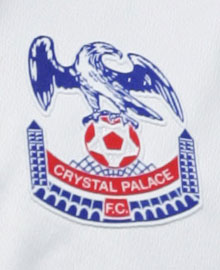 Crystal Palace have a number of celebrity supporters - take a look at our comprehensive guide.
Katy B - singer
Singer-songwriter and a BRIT School graduate, she's a dubstep, R&B, funky house and UK garage singer. Had top five songs Katy On a Mission and Lights On.
She said: "My best friend supports Crystal Palace so I've been to loads of games. They're local so I feel more attached to them."
---

Paul Greengrass - Film director
The Cheam-born director and screenwriter's recent works include working with Matt Damon on The Bourne Supremacy, The Bourne Ultimatum and Green Zone.
---

Maxi Jazz - Vocalist
Rapper and lead vocalist of the band Faithless. The Brixton-born song writer was interviewed by Sky Sports at the Selhurst Park fan protest in May 2010.
---

Timothy Spall OBE - Actor
Made his name as Barry Taylor in Auf Wiedersehen, Pet. He played Peter Pettigrew ("Wormtail") in the Harry Potter movies and also starred in films such as Crusoe, Secrets & Lies, Shooting the Past, Rock Star, The Last Samurai, and Lemony Snicket's A Series of Unfortunate Events. Recently, the Forest Hill resident played Peter Taylor in the Damned United.
---

Rebecca Lowe - Sports journalist
Reporter for ESPN's Premier League coverage after spells with Setanta and BBC's Football Focus, Match of the Day and Five Live. Daughter of BBC newsreader Chris Lowe.
Her worst on-air moment? "When I was doing a match report from the Valley on Charlton versus Crystal Palace (who are my team) on the last day of Season 2004/05 and the whistle went while on BBC1 and Palace had been relegated from the Premiership.
"I had to be totally professional and just tell it like it was despite feeling so sad we were down. I also said Chelsea have a had a crapper instead of cracker during a match report from Stamford Bridge for Final Score. Oops!"
What she would like to do before her career ends: "Gosh, probably report from a Champions League Final when Palace beat Real Madrid in the last minute! In a completely different area, I'd like to do a series of documentaries about the plight of animals close to extinction."
---

James Buckley - Actor
He is best known for his role as Jay Cartwright in the Channel 4 hit comedy The Inbetweeners.
---

Simon Bird - Actor and comedian
Plays Will McKenzie alongside Jay in the Inbetweeners. Won the 2008 British Comedy Award for Best Male Newcomer.
---

Liam Neeson OBE - Actor
Irish actor known for his roles in Star Wars, Schindler's List, Batman Begins and The Chronicles of Narnia. He used to ring up Simon Jordan for tickets to see the Eagles and stated he is a big fan.
---

Kellie Shirley - Actress
Kellie plays Carly Wicks in EastEnders and has appeared as a Celebrity Soccerette on Soccer AM. She was born in Croydon and was trained at The BRIT School for Performing Arts in Selhurst.
---

Steve Brookstein - Winner of X Factor 2004
His cover of Against All Odds reached number one in the UK chart. His first album Heart & Soul debuted at the top of the UK album chart on May 16, 2005.
---
Mark O'Donnell - Sports reporter for BBC London 94.9
Mark O'Donnell on the morning show from 6am-9am is having a much easier time since Millscum supporter Danny Baker has left - never misses an opportunity to mention the Eagles.
Sent in by Bexley Dave
---
Harry James - Drummer of the rock band
Thunder
I even have a photo of him wearing my Palace scarf at a record signing in Tower Records, London. He sometimes plays with another band at the Cartoon Club in Croydon.
Sent in by Martin
---
Paul Weller - Singer
I know Paul Weller is a Palace fan. In one of his videos when he is a kid, he dances round his room which is covered in Palace flags, photos, posters and shirts and is wearing a kit of that era.
Sent in by PalacePat_1
---

Matthew Wright - TV presenter, former Mirror showbiz columnist
---

Bill Nighy - Actor
The BAFTA award-winning actor was born in Caterham and is a lifelong Palace supporter.
A role in the long-running U.K. television series Auf Wiedersehen, Pet found Nighy earning deserved recognition in 2002, and after a performance as the patriarch of an eccentric family in I Capture the Castle (2003), he earned even more accolades for his performance as an ageing rock star in Love Actually, for which he won the Evening Standard Peter Sellers Comedy Award. His recent role as a newspaper editor, in State of Play, won him a BAFTA award. He also appeared in Shaun of the Dead.
Bill Nighy will appear in the movie version of The Hitchhiker's Guide to the Galaxy in 2005, and will provide the voice of Dylan, in the animated fantasy, The Magic Roundabout Movie.
---
Wayne Alexander - Boxer
The Tooting-born boxer won the WBU Light Middleweight Title at the end of September 2004 and paraded his belt at the Palace v Man City game.
---
Harry Enfield - Comedian
He often has references to Palace in programmes he's in. For example in his sitcom "Celeb" that he filmed with the VERY fine Amanda Holden, he was often seen wearing a Palace shirt. Has also made references to Palace in "Harry Enfield and Chums". Also admitted to supporting Palace in a magazine interview in the late 90's.
Sent in by Lions for Dinner
---

Nigel Harman - Actor
Nigel shot to fame by playing "Dirty" Den Watt's son Dennis Rickman in EastEnders in April 2003. His previous television appearances include Red Cap and Doctors. He's worked in a variety of theatre work including Damn Yankees, Privates on Parade, A Midsummer Night's Dream, Much Ado About Nothing and Three Sisters.
---

Peter Davison - Actor
Peter is widely known on TV as the fifth Doctor Who and as vet Tristram Farnon. He has also appeared on a drama on BBC1 called the Mrs Bradley mysteries and is a keen Palace fan. His uncle took him to his first game in 1963 when Palace were in the third division and John Sewell was captain.
He regards Ron Noades as a hate figure but admires Ian Wright.
He said: "He was superb at Palace and has gone on to become one of the greatest goalscorers of his generation." If he could jump in his tardis and bring back a part of football from the past, he would put Palace back into the top flight.
---
James Whale - Radio broadcaster

James is famous for his out-spoken views on his late night radio show on talkSPORT. He first started out as a DJ in Radio Top Shop in Oxford Street. He then moved on to Radio Metro in Newcastle and his motormouth style became a big hit with listeners. He transformed this onto TV where he had his own late-night discussion show on ITV in the late 80s. He moved onto Talk Radio and has recently been voted best late-night radio DJ. Occasionally, talks about Palace on air.
He said: "I was born in Epsom and Palace were the biggest team nearby. I could have followed a very small local side where only a handful of fans turn up but I decided against it. I used to go along with my mates and had some good fun cheering the team on."
Revealing his greatest Palace player, he said: "I'd opt for Ian Wright. I've met him a couple of times and he's a really charming guy. He has achieved so much since quitting football it's easy to forget that he actually played for the Eagles.
"I have to say he has done exceptionally well with his TV career. He's got the good looks and is super suave - I hate him for it!"
---
John Crawford - Superbike racer
John rides for the Clarion Suzuki motocycle team in the British Superbike Championship. He has mentioned his love for Palace on a few occasions at race meetings.
Sent in by Robert Fermore.
---

Jim Alexander - Actor
Jim currently plays Harchester United goalkeeper Jamie Parker in Sky One's footie soap - Dream Team. He would be recognised by most for being in London's Burning for two years. He also appeared in HTV production Without Motive and in lots of theatre productions, including Blood Wedding, Oliver and David Copperfield. He is a regular down Selhurst Park and has been seen drinking in The Corner House in Croydon.
He said: "I grew up near the ground so I've supported them ever since I was a kid. I've been a fan for about 15 years now.
"I always liked Andy Gray, he was just fantastic. And you can't talk about great Palace players without mentioning Ian Wright, who was pure quality.
"My greatest memory would have to be the 1990 FA Cup final against Man Utd. I went to the 3-3 draw and it was am incredible game to be at. The atmosphere was unbelievable although I was obviously gutted when we ended up losing the replay."