June 29 2001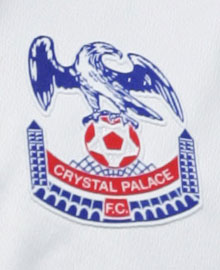 Crystal Palace have a number of celebrity supporters - take a look at our comprehensive guide.
John Peinnar - BBC TV political reporter
John Pienaar is definately a Palace fan. I go to school with his son and asked him about it. Apparently John grew up near the ground and used to go regularly to matches. Now he goes when he can.
Sent in by theglazier
---
Martin McCague - Cricketer

Alan Igglesdon started bringing him to games in 1991 and he has been a regular since. The Kent fast bowler has played for England in three tests.
---
Ally Ross - Top journalist

Ally Ross from the News of the World, TV critic, celeb gossip peddler, sometime London Live breakfast show host and 11 o'clock show rumour monger, has unhealthy interest in Tomas Brolin and wants to sponsor Sun Jihai's socks - if he comes back. Is a mad Aberdeen fan, but feels need to support team of equal stature in London (ahem).
---
Sir Bernard Ingham - Politician

Top Tory Ingham, Margaret Thatcher's former press aide currently lives in Purley, Surrey.
Ingham moved to Purley in 1965 from up north and began supporting Palace as they were the local team. He took his son along from the age of seven and he's a big fan. He sits in the Main Stand with his son and neighbours.
Johnny Byrne was a favourite of his and he recalls his greatest memory: "That would have to be the cup finals in 1990. I wasn't able to go to the games but it was a great time for the club.
"In all the time I've supported Palace, it's fair to say it hasn't been plain sailing but there have been some real highlights since 1965 not just that FA Cup run 13 years ago.
"Overall, I think we've done remarkably well and it still amazes me at the size of the crowd that comes along each week."
---
Alan Igglesdon - Former Kent cricketer
When Alan was a youngster, he used to go to work with his dad in Croydon and they both went off to the game afterwards. He introduced team-mate Martin McCague (see above) in 1991.
He recalls his most vivid memory: "I did have a bad moment many years ago. I was standing right on the half-way line and I jumped up and caught one of Vince Hilaire's socks, then on the way out of the ground someone took it from me.
"I held on for as long as I could but the guy got away with it! So I was mugged for a Palace sock.
"I used to like Jim Cannon. Also Kenny Sansom, John Jackson, Don Rogers and recently John Salako because he came from the same village as me and was also a great player. Then of course Ian Wright and Mark Bright. Lots of good memories."
---
Natasha - Former XFM DJ
Natasha from the XFM breakfast show is a die-hard Palace fan. She recently spoke to the Holmesdale Online: "Yes indeed, I am a huge Palace fan and go to matches as often as my stupid job allows, but my Saturday afternoon show unfortunately prevents me. Still I managed to see them get their arses whipped by Grimsby the other night! How painful it can be to support the Eagles!"
---
Gerry Williams - Sky Sports tennis commentator
Gerry was sports editor of the Croydon Advertiser before Dave McClelland and was at the paper for 10 years before moving to the Daily Mail. He eventually moved on to commentate on tennis for the BBC and is now at BSkyB. If there is tennis on Sky Sports, then he will be there.
He said: "I was born about a mile or so from the ground, just by Norwood Lake. When I was about seven or eight, I remember being lifted over the turnstiles to get into the ground for my first game at Selhurst Park. I'm afraid I can't remember who the Eagles were playing that day!
"There are two players who stick in my mind. Johnny Byrne and Ian Wright. They were both fantastic. We've had quite a few good players down the years but they're the best of the lot."
---
Jim Piddock - TV Writer
Hollywood screenwriter (Die Hard, Independance Day etc), Playwrite (BBC series and many others besides), actor, director and all round good guy. Lives in Hollywood and has a bar in his house called Selhurst Park. His recent series - Too Much Sun - featured an actor wearing the Palace home strip in several major scenes.
---
Tim Gudgeon - Reader of the Grandstand football scores
The man who reads us the football results on Grandstand is from Croydon and is a Crystal Palace fan. He recently said: "Coming from Croydon, I was a big Crystal Palace fan and I used to follow Surrey Cricket Club around as well."
---
Bob "the Cat" Bevan - Sports raconteur & sometime TV personality
Palace's favourite after-dinner speaker has his own website on www.bobthecatbevan.co.uk
Bob was born in Dulwich and started watching Palace in 1958. As one of the vice-presidents he gets along to most home matches.
He said: "I remember when they played Arsenal in the Southern Floodlit Cup Final, in the days when the Arthur Wait stand was a mudbank, and about that time they played Real Madrid in a friendly - they were good days.
"I suppose the big memory is the 1990 cup final and semi-final. I was in tears when they beat Liverpool.
"I thought Johnny Byrne was tremendous. I remember a midweek game at home to Southport that we won 5-0. He collected the ball at the corner flag and I don't know how many people he beat but he was leaving defenders in his wake, ran in and scored. It was an unbelievable goal.
"As a goalkeepr, I also think John Jackson was tremendous, he kept us up for a couple of years, and of course Don Rogers was sensational. later on, Andy Thorn and Eric Young were brilliant at the back and Wright and Bright up front was one of the great partnerships"
---
Daniel Pearce - Boy band singer
Daniel is a member of One True Voice, the pop group created on TV series Popstars, The Rivals. His dad took him along for his first game when he was aged three, where Palace lost 2-1 to Shrewsbury Town.
His best memory was: "When we nearly won the FA Cup in 1990. I was in tears when we lost the replay to Man Utd. I don't go to either of the games but I watched them on TV and I was absolutely gutted when we lost after doing so well in the first game. They were the glory days of Ian Wright and Mark Bright."
---
Mark Steel - Comedian
TV & radio presenter, columist in the Independent, Socialist Alliance canditate & Ken Livingstone's spokesman.
---
Harry Carpenter - Boxing commentator
Harry has been a Palace fan all his life and commentated at World Heavyweight Boxing title fights since 1955 and every Olympic Games since 1956. One of the best known sports commentators and highly respected speakers on the circuit. He was born in Upper Grove - a quarter of a mile from the ground - and moved to Shirley as a kid when he went along to games with his dad in the 1930s.
His favourite players: "Ian Wright and Mark Bright were excellent. It was a great era for the club when they were with us. I also remember being very fond of two brothers, Albert and Fred Dawes. They were fantastic to watch although I don't recall too many fans will recall them!"
---

Windsor Davies - Actor
Windsor is very much a Palace fan. Him and his son have been going to Selhurst many times since the 70s and early 80s.
---
James Cannon - Capital FM DJ
Brought up in Forest Hill, James decided to support his local team Palace. His favourite player was Ian Wright "because he was absolute class", he said.
"He had loads of ability and he was one of those players that, as a fan, you love. He always worked his socks off and you could tell he really cared. Winning meant verything to him."
---
Daniel Day-Lewis - Actor
Was recently seen at Selhurst with his young son.
---
Nicholas Witchell - BBC news reader
Nicholas was confessing to be "one of us" after a bulletin featuring the Stockport victory on BBC News 24.
---
Martin Bashir - Journalist
Seen down Selhurst Park with his brother.
---
Iain Smith - Former president of the then Rhodesia
Russell Floyd - actor
Russell Floyd who used to play the market inspector Michael Rose in Eastenders (father of Matthew Rose played by Joe Absolom). He's now just joined The Bill.
I remember him doing an interview with Mark & Lard on Radio 1 when they were doing The Breakfast Show where he said he was currently eating his cereal out of his Crystal Palace cereal bowl with the face of Lombardo at the bottom!!
Sent in by Selhurst Stallion
---
Ray "Alf, you flaming gallar" Meager from Home and Away