June 29 2001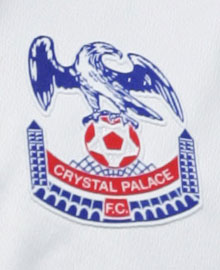 Crystal Palace have a number of celebrity supporters - take a look at our comprehensive guide.

Eddie Izzard - Comedian
Eddie's Dad is reguarly seen at Palace home games in the Arthur Wait Stand, and Eddie is a Palace fan himself. His aunt and uncle lived next to Selhurst Park when he was younger. Eddie was top bill at the Eagles comedy night, Glad All Over at the Farfield Hall, Croydon.




---

Graham Cole - Actor
As TV's favourite cop PC Stamp in The Bill, Graham regularly attends home games with his son Matthew. He has been watching Palace from the early 80s ever since living in South Norwood, and now lives in Bromley.
He said: "Well I've got two kids and we wanted to go to a very safe, family-orientated ground to watch football. I visited a few and Palace was the best. It also happens to be my local side and I'd been there before. I'm a north London lad but my wife has always been over this side so I moved down and I've been supporting them for about 23 years now."
He recalled the best player he's seen at the club: "I have soft spot for Chris Coleman and also I think Nigel Martyn made a great difference when he played for us - the times he saved us! Over the years I think defence has been our weakness and Martyn really held us together on many occasions."
---

Jo Brand - Comedienne
Yes it's that fat bird off the telly. The hater of men, the lover of food, and Palace. As she said at the Glad All Over comedy night, she finds it hard to get to the ground on match days, as she can't get past Sainsbury's. She appeared as a guest on Skinner and Baddiel's Fantasy Football Show a few years back representing Palace.



---

Neil Morrissey - Actor
Popularly known as Tony in the BBC comedy series Men Behaving Badly. He has also been seen in other acting roles, such as Boon, Roger Roger, The Vanishing Man, DIY adverts and voice of Bob the Builder. Neil was featured in the matchday programme advertising Palace Radio.
---

Sean Hughes - Comedian
Sean has been on TV with Sean's Shorts, Sean's Show, and as team captain of the BBC music quiz show Never Mind The Buzzcocks. He has written a couple of books and had a stint as a DJ on GLR Radio. He appears on a regular basis on tour in the UK and Ireland, and gets to as many home and away games as work commitments will allow.
Began following Palace after falling in love with Vince Hilaire's silky skills. I had the privilege of having a piss next to him in the toilets at a Barnet pre-season friendly a couple of years ago.
---

Bill Wyman - Ex Rolling Stones
The richest Palace celebrity donated a signed cd and t-shirt at the Glad All Over night. Sean Hughes joked that he never sees him, because he is always in the family enclosure scouting for a new wife.
---

Roger de Courcey - Comedian
Roger (with Nookie) tours the UK as an after dinner speaker and has appeared at many Palace functions throughout the years aswell. Nookie Bear has always worn a Palace rosette. Represented the Eagles as a guest on Skinner and Baddiel's Fantasy Football show a few years back and has been a fan since the late 60s.
He recalls his best memory: "It would have to be the Cup Final with Man United. I went to Wembley with my son and we were unlucky to only draw.
"We were up in extra-time and if I'd been the manager I would have told them to kick the ball all the way to Neasden, but they tried to play football and we know what happened then."
His favourite players were: Don Rogers, Johnny Byrne, Kenny Sansom, Mark bright and Ian Wright.
---

Julia Roberts - TV Presenter
Julia is a presenter on the shopping channel QVC on cable and satellite TV. She used to write a regular column - Bird's Eye View - in Palace News about the current state affairs at the club. Always a regular at the annual open days.
She said: "I go along to every home match with my son Daniel and always have a chat with the players after as our tickets are in the Players' Lounge.
"The best memory has to be the moment when David Hopkin scored in the play-off final against Sheffield United. It was such a tense finish to a long season and I will never forget those scenes at Wembley once we had sealed promotion to the top flight."
Her favourite player: "It has to be The Bald Eagle Atillio Lombardo. He was great to watch and such a nice person to have around the club. Other favourites have included Gareth Southgate, who I once told he would be the captain of England one day and that was before he was captain of Palace. He was the ideal profesional on and off the field and long may his success continue."
---

David Jensen - Radio DJ
Currently presents the mid-morning show on Capital Gold via Heart FM, after many years on Capital FM. He began watching QPR due living in the area but lost enthusiasm when they put down the plastic pitch. Has supported Palace since 1984 and has always talked about the Eagles' fortunes on his radio shows. The "Kid" is chairman of the Golden Eagles Club and rarely misses a home game.
Speaking in the Palace programme he said: "Well it sounds bizarre but all the Capital DJs were invited to each of the London clubs to do the announcing at a penalty shoot-out competition. We drew lots to see which team we'd go to see and I drew Palace.
"They were third from bottom of the old Second Division at the time, so it was the least promising of fixtures. I went along though and had such a great time I kept coming back."
---

Graham Bickley - Actor
Graham is most famously known as Joey from the hit 80s TV show Bread. He has had lead roles in Andrew Lloyd Webber's Sunset Boulevard in the West End, starring alongside Petula Clark, and in Miss Saigon.
Growing up in Liverpool he used to watch them play, but now he is living in South London, he feels it is important to support the local team. He regularly appears in the Palace programme presenting winning cheques to fans. His girlfriend Helen Hobson, who was the leading female role in Cliff Richard's musical Heathcliffe, is also a Palace fanatic.
He said: "I got into Palace around 1989 or 1990. I used to get along to most of the games and help out with any work the commercial department wanted me to get involved in.
"Greatest memory is without a doubt beating Liverpool in the FA Cup semi-final. I was up there at Villa Park and it was a fantastic day. The biggest disappointment was the cup final replay that year. I've been to some strange games as well. I don't think anything will beat the night Eric Cantona jumped into the crowd. Everyone who was there will remember that match, but for all the wrong reasons.
"Best player was Ian Wright. Geoff Thomas was a great captain and I'd also say Gareth Southgate. He was a great player and a real gent. I also thought Eddie McGoldrick was great for us. He was never going to get on the world stage but I can remember some fantastic runs from him down the wing."
---

Kevin Day - Comedian
Kevin used to co-present Channel 5's late night sports programme Live and Dangerous. Living in the Croydon area he is probably the celebrity who goes to matches most regularly. He would love to bring back the claret shirt with the light blue stripes and one of his all time favourite players is Derek Jeffries. Recently seen at the Mayday protest march and was compere for the Palace charity comedy night.
He told the Palace programme: "My best friend at primary school had a Palace shirt that his mum made for him and I liked the look of it so I became a Palace fan. One of the old claret and light blue shirts, though she knitted so it became very heavy when wet.
"My very first game I was taken to was with my dad in 1969. It was Stoke City at home and we won 3-2 or 3-1. These days, I go to the Pawson's Arms on Pawson's Road which is a nice pub and is always packed with locals and Palace fans on matchdays."
---

Zara Long - British Olympic swimmer
A few years ago, she was on Question of Sport and Ian Wright was on the opposing team. John Salako appeared on the Picture Board and she instantly recognised him. And as David Coleman pointed out, it was an easy one for her as she supports the Eagles.




---

Roy Hudd - Actor/Comedian
Roy, born in Croydon, has been supporting Palace for many years. He was there for our record win 9-0 vs Barrow. His boyhood hero was goalkeeper Dick Graham, who he says could kick the ball into the opposition penalty box from a goal kick. His worst player of all time is Alfie Noakes, who he also hails as the best ever Palace character.
Currently playing Archie Shuttleworth in Coronation Street, he said: "The 1990 FA Cup finals are my happiest and saddest memories. That season was so exciting but to miss out on winning that final in the way we did was so upsetting.
"Apparantly when we were leading with only a few minutes left, they started tying the Palace colours onto the cup. If that isn't the kiss of death, I don't know what is!"


---

Chris Lowe - BBC Newsreader
Chris is a presenter for the Today programme and PM on BBC radio, and Breakfast, Newsnight and news bulletins on BBC TV. His first game was against Millwall in Division 4 in the 1960-61 season. His boyhood hero was Johnny Byrne, who he describes as the best all round player in Palace colours.
His biggest Palace disappointment was the breakup of the Team of the Eighties and not getting Johnny Byrne's autograph. Is a season ticket holder with his daughter in the Holmesdale End.
Speaking in the programme, he said: "Back in 1960, my father was in the RAF and we moved from Oxfordshire to Caterham. I remember looking through and A-Z for the nearest club and it could have been anybody - Leyton Orient, Charlton or even Millwall God forbid, but it was Palace so that was that.
"I managed to get a job selling lottery tickets for the time of the first goal, so I used to get into the ground for nothing and was paid 10 shillings for my train fare from Caterham."
---

Ronnie Corbett - Comedian
Ronnie is best known for his appearances in the TV comedy program The Two Ronnies. Ronnie has been a Palace fan for many years and has advertised the Croydon Advertiser.






---

Rob Newman - Comedian
Rob Newman made it big when he appeared on the Mary White House Experience on BBC2. His career reached its peak when he performed a sell out gig at Wembley Arena with Fantasy Football's David Baddiel. Rob Newman unfortunately couldn't make it to the Glad All Over charity gig, but we are assured that he is a Palace fan.
---

Mark Butcher - England and Surrey cricketer
The Surrey and England opening batsman went to Trinity school in Croydon. He was taught cricket at Cumnor House primary school in Purley by current Eagles assistant boss Steve Kember and is still good friends with him today.
His favourite player was Ian Wright. He said: "He was a fantastic player and not only talented but so commited as well. He gave everything for the club when he played and I'll never forget him coming on in the FA Cup Final against Manchester United - what a perfromance.
"As much as I enjoyed that FA Cup Final, it would have to be the semi-final against Liverpool which is my greatest memory. The game had everything. When we went 1-0 down I think everyone expected us to crumble but we got back into it and just gre in confidence. When Alan Pardew got the winner I don't think the Palace fans could believe it."
---

Jim Bob - from band Carter USM
Carter sponsored the trainer's bench in November 1992 against Nottingham Forest. Jimbob was interviewed in the Eagle Eye fanzine in 1993 and said: "The only reason I buy a newspaper is to find out the Palace score."
He explains how he started supporting the club: "It was a long time ago now. I would have been about 12 or 13. I live in Upper Norwood now but used to live in Streatham, so it was the nearest place to go if I wanted to see football. When I was young I was torn between Palace or Man Utd, but Palace won in the end."
When he was 11, he used to go to the training sessions and get autographs.
His best memory: "Although I wasn't there, it would have to be the 1990 FA Cup final. We were doing a gig in Paris and we were either driving to or from the gig. I remember listening to the whole game in the back of a van and it was such a thrill just to get it on the radio. The second game isn't such a good memory. We were at a gig again and watched it on TV. After we lost, some joker in the club was putting on the Smiths and that really wound me up."
Since the Carter split back in August 1997 he has been working hard on a new project - Jim's Super Strereoworld and his first single was released called Bonkers In The Nut.
---
Palace fans yet to be confirmed...
Margherita Taylor - Capital FM DJ
John Leslie - Ex-Blue Peter
Enoch Powell and Robert Flemming
---
Do you know of any other famous Crystal Palace fans?
Email the editor@holmesdale.net or put your comments in the form below