March 31 2003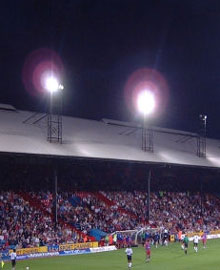 The 1978/9 season was one of the most memorable in Palace's history and most fans will remember it by just one game.
The following messages were posted by HOL members on the Palace Talk messageboard, recalling events from THAT memorable day.
---
Tebbo
I was 20 at the time and remember standing in the Arthur Wait. A pee at half-time was out of the question because it was impossible to move from where I was standing.
I recall someone close to me had a sack full of the small round pieces of paper that used to be produced by the old telex machines. These were launched skywards when we scored.
Amazing atmosphere, sadly never to be repeated, not even on our later visits to Wembley.
---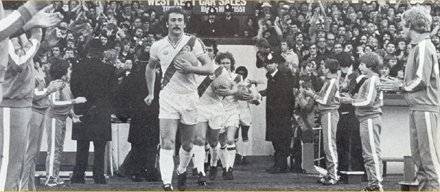 croftonglazier
I was 15 at the time. I stood on the Holmesdale under the floodlight that used to be at the top of the hill.
Most vivid memory is when we scored the second goal as someone to our left uncorked a bottle of champagne and the cork landed on my dad's nose cutting him.
At the end I can remember the surge onto the pitch but we were so far back we had no chance and could only watch the celebrations in the old stand from afar.
I still have the flag I waved that night and after the game my dad and I went to celebrate in the Rosecroft in Orpington - which was full of jealous Addicts from the Valley!
Still I managed to get on the pitch when we knocked Swindon out of the play-offs some years later and still treasure the video as a number of us from Orpington go right across the middle of the screen.
---
CiderEagle
That evening is a bit of a blur to be honest. I was 17 and just about to leave school. Me and my dad went in the Arthur Wait for the first and only time, being unable to get tickets elsewhere.
I have never experienced an atmosphere like it, before or since. Memory plays tricks, and please correct me if I'm wrong in this, but I think the options open to us were, win and win the Division, draw or lose and fail even to get promoted.
Smillie was chosen in preference to the 19-year-old (I think?) Vince Hilaire, which caused great concern among us all.
I think it was 0-0 at half-time and halfway through the second half a great chant of "We want Vince" went up, sung by what seemed like the entire ground.
The lad was duly produced, began to repeatedly skin the Burnley defence and made both goals (again, this is just my memory of it and I fully accept that this may all be factually a load of cobblers!).
The ground didn't empty for ages afterwards, the trophy was presented and what seemed like the entire squad was announced to the crowd. The pubs were chaotic afterwards, apparently there were a few M***w*** fans going around beating up any Palace fans they could find.
Earlier in the day, our cat had given birth to two kittens - one was stillborn but the other was a little black one I wanted to name "Vince", but was overruled by the women of the family.
We eventually compromised on "Champ". So for six or seven years, every time we stroked the cat we had a reminder of the greatest day in Palace history. He was probably the best-loved cat in the world.
---
redblueeagle
I was only eight and at that time had never been to Palace. However I do remember my mum listening to the game on the radio.
The situation was if we won we knocked Brighton off the top of the league and won it ourselves. If we drew then we took Sunderland's place in third and got promoted.
If we lost Brighton, Stoke and Sunderland all got promoted and we stayed down. I remember Burnley scoring first but it was offside. Oh for another day like that!
---
cb1969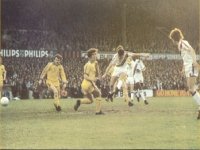 I remember the day well, I still have my programme and ticket stub! I was 10 years old and as my dad was a cabbie down at Crystal Cars in Norbury and used to pick up a few of the players, we managed to get a couple of tickets off Peter Nicholas.
We were in the seats opposite the Waite Stand and I can remember a bloke sitting next to us who said he'd come down from Luton after getting a last-minute ticket.
Looking at the Holmesdale End that night you couldn't have got a fag paper in between the crowd it was so packed.
Five minutes before the end the whole ground was singing: "when the Whites go marching in", and believe me at that moment, with the best part of 53,000 singing and supporting my beloved Palace, I was in awe.
I then remember everyone piling onto the pitch and a great banner being held up saying "Move Over Liverpool, Here Come Palace!" There were flares (both the pyrotechnic ones and the trousers!!) and fireworks.
I can still remember going home and seeing Sandy Gall on News at Ten showing the heaving pitch. There is a photo in the We all follow the Palace book that shows the pitch mobbed by fans with the pitch not visible and the stands STILL looked packed.
I reckon that with 53,000 people there, just one may have had a cine camera, and relives that moment whenever they please. If you are out there, please share it with us!!
---
davidcpfc
I was 16 years old and had to travel down from Bristol with my dad. We couldn't leave till 3.30pm because I had an exam at school and the only way we got in was I had a mate Mike Branch and his dad's season ticket and I still have a flag which I made. What a night!
---
monkey
Without doubt my greatest day as a Palace fan, yes even above the cup final. Win and we go up as champs, draw and we go up as runners-up and lose and we stay down. 54,000 people inside and another 6,000 locked out, you can just imagine what the atmosphere was like.
I was only 14 at the time and was standing In the Arthur Waite enclosure. I don't think my feet were touching the ground for most of the game as it was so packed. The Holmesdale from the view I had was just a sea of heads.
Atmospheres like that will never ever be repeated inside football grounds because of all-seater stadiums and even if you are lucky enough to go to a game where there's terracing, they restrict the attendance.
When the first goal went in I think the noise would have been heard on the moon.
What a night. It's going to take something pretty special to better it that's for sure. I just don't think it's ever going to happen. Great memories!!