May 16 2006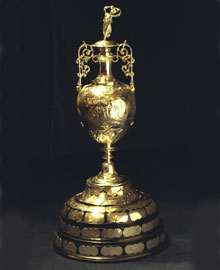 For the definitive review of every Championship team during the season, read the Saint's verdict.
Reading - Champions
Final Placing: 1st
Last Season: 7th
Manager: Steve Coppell
One to watch: Steve Sidwell
My Prediction: 10th
How will we do? – 6/6
How did we do? – 1/6
What I said: "Sorry Steve, but it won't be your year either. After flirting with the playoffs for the last 2 seasons, Readings' main problem is not being able to perform consistently for long enough to stay in the playoff zone. It will be a case of some you win and some you lose for the Royals this season, with there being less wins to cheer, Reading fans will be disappointed once again by the seasons end."
By far and away the best team in the league this season, Reading and Steve Coppell are worthy champions. An opening day defeat was one of only 2 sustained all season and with over 100 points and 100 goals, Reading were unstoppable in their quest for the Championship.
Coppell is a shrewd mover in the transfer market. He removed all the dead wood or unnecessary players at the start of the season, which included seasoned professionals like Nicky Forster, Les Ferdinand and Shaun Goater, which left me concerned about where the goals were coming from. But Dave Kitson, Leroy Lita and Kevin Doyle all came up with the goods. Steve Sidwell got into double figures in midfield and although he was my one to watch, in truth Reading had 10 others that performed with the ruthlessness that make a team champions. 5 times they hit 5 goals and with Marcus Hahneman in goal keeping 13 clean sheets, Reading had the winning formula.
Our performances against them were credible, Losing 3-2 in September, was a disappointment and the draw live on Sky in January was good, but we could have won that game. It would have only delayed Reading by a week, as they won the Championship with a month to spare. Reading deserve all the plaudits and knowing Steve Coppell, he will have seen Sunderlands' capitulation after cantering to last seasons title and will not make the same mistake. He is the only manager in the last 25 years to have taken Palace to the top flight and kept us there for more than one season and as he has taken Reading there for the first time, you sense that he could repeat that feat.
We can only look and see with a little envy of what he has achieved. Steve Coppell belongs in the Premiership and after this season, no one can argue that Reading do as well.
Sheffield United – Runners Up
Final Placing: 2nd
Last Season: 8th
Manager: Neil Warnock
One to watch: Danny Webber
My Prediction: 7th
How will we do? : 6/6
How did we do? : 0/6
What I said: "So can they go one step better this time? No is the answer. Warnock has gone all out but I don't expect a lot of the players who came in to make a difference. We play them last game of the season and by then, it should all be academic. United will not be able to get into the playoffs, while we will be up already"
So, I am eating a serving of humble pie after my comments above. Neil Warnock will manage in the Premiership finally and to see him go toe to toe with Mourinho, Wenger, Benitez and Jol will be a breath of fresh air to the Premiership. There will be none of that " I didn't see it"rubbish, Warnock calls it as he sees it!
With only 4 defeats until January, Sheffield United started off at record pace and it looked like that they would sweep the division before them. Warnock had finally gotten it right and even a wobble would not stop them becoming champions. However, with Readings incredible run which would see them unbeaten until the middle of February, the trademark wobble which happens each season to the Blades, saw them lose top spot to Reading and from February to the beginning of April and indifferent run of form that would not constitute a wobble, saw the Royals disappear over the horizon and the playoff contenders closed in on them.
But Warnock decided that the best way to win 2nd place was to buy any striker that was capable of scoring goals in this division. Even after getting Danny Webber and Neil Shipperley, he added Bruce Dyer and Ade Akinbiyi to his squad to ensure that there would be enough competition up front. With Steve Kabba also, Warnock had 4 ex-Palace strikers, which makes you wonder why we let them go.
United were playing a brand of football at the start of the season that was great to watch and they scored goals from all over the team, making them a dangerous side. Paul Ifill, Nick Montgomery and Phil Jagielka were all good players and adding experience in the form of David Unsworth would add the steel required for the Blades to remain strong until the end.
Which is exactly what it proved and promotion is no more than they deserved. Football is a team game and United have the depth to the squad and no distractions of the Cup competitions this season to hinder their progress, they made it with two weeks to spare.
United were possibly one of the best teams to come to Selhurst this season and their 3-2 win was no fluke, but with hard work and good football. Jagielkas' and Ifills' goals were good enough to grace the Premiership, never mind the Championship. Our 1-0 defeat at Bramall Lane was academic as both teams had nothing but pride to play for.
Warnock knows that he will have to buy players and wheel and deal to get the best chance of survival next season, but there can be no denying that over the course of the season, the most dangerous teams do not have to have one dangerous player, they just have to play as a team. There is hardly a weak link, from Kenny at the back to anyone up the front, so 2nd place is a fine reward for the Blades finally ascending back to the Premiership.
Watford - Playoffs
Final Placing: 3rd
Last Season: 18th
Manager: Adrian Bothroyd
One to watch:
My Prediction: 24th - Relegated
How will we do? : 6/6
How did we do? : 6/6
What I said: "While no one had even heard of Bothroyd before his appointment, it does not mean that he is not up to the job. However since his appointment, he has hardly shown that he can get the best out of the players he has. The only way Watford are leaving this division is to League One"
Watford are this seasons over-achievers as I don't think that with all the upheaval they endured towards the end of last season, plus losing a lot of their players in the summer, anyone would have had them in the playoffs come the end of the season.
The Preview was written before the season started and Bothroyd brought in players that would make a difference. Clarke Carlisle came in from Leeds, as did Matthew Spring, while Marlon King ended his short stay in League One with Nottingham Forest. He also utilised the loan market and brought in Chris Eagles and Ben Foster from Manchester United. Add to that mix youngsters like Ashley Young and Lloyd Doyley and with signings like Jordan Stewart and Jay De Merit, the side was reconstructed.
Watford started the season well, only losing to Sheffield United, Preston and Coventry by the end of September. By the end of 2005, they had only lost thrice more, to Leicester,Burnley and ourselves and doing the double over Wolves had buoyed them to greater things.
Watford continued their great form in 2006, losing only 1 of 11 games since the turn of the year, which was to Leeds. They beat Sheffield United 4-1 on Sky in February and while they were always far behind the top two, they seemed even then, destined for the playoffs. Only one more defeat and Watford have secured 3rd place above teams such as Leeds and Preston, more fancied with "better" players, if you believe all you read in August.
But every player that Bothroyd brought in has come up trumps. Whereas last season defeats have become this seasons draws and last season draws now victories, it is not surprising to see Watford where they are. Eagles has been a revelation in midfield, Ashley Young has been a constant threat and at the back, Ben Foster has shown many reasons why Manchester United invested £1,000,000 in him last season from Crewe. Yet Marlon King, who is the top scorer in the division and deserves all the plaudits for turning his life around, has overshadowed them all. After a spell in prison, he has bounced back to the form he showed for Gillingham and Barnet.
We performed well against Watford. They caught us while we were on our spectacular Christmas revival and then live on TV, we matched them and forced errors to win 3-1. This means that while we will face them in the playoffs, we cannot expect an easy ride. We might have been the only team to do the double over them this season, a feat the Reading cannot even boast, but they will be more out for revenge than any other of the playoff contenders when we line up against them, so we must be on our mettle.
Bothroyd and the players can still take a lot of heart from a season where they have become more than just a surprise package. They could still be playing Premiership football next season, if they are underestimated.