August 7 2006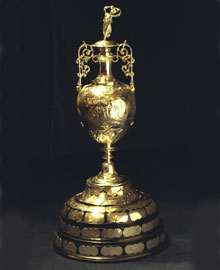 The Saint's epic guide to the 2006-7 Championship season.
The Championship is becoming more of a Premiership graveyard than ever before. As West Ham and Wigan managed to do more than stay up last season, there are more sides now in the Championship who have played in the Premiership than those that haven't.
This is the best supported second tier league in the world and, as it consists of a lot of ex-Premiership sides, this is no surprise. Who will be going up, going down and staying down?
Most important of all is how Palace will do. With Peter Taylor now in charge and a host of players who played in the Premiership having departed, the wind of change has blown through Selhurst Park and we all hope that we can reach the top flight once again.
So for all the information on the runners and riders in this seasons Championship, read on.
(Transfers from May 1st – August 1st inclusive)
Birmingham City
Last Season: 18th Premiership (Relegated)
In: Cameron Jerome (Cardiff - £3 million), Neil Danns (Colchester United - £850,000), Stephen Kelly (Tottenham - £750,000), Jamie Price (free), Adam Legzdins (free), James Blake (free), Bruno N'Gotty (Bolton – free), Fabrice Muamba (Arsenal – loan), Sebastian Larsson (Arsenal – loan), Rahdi Jaidi (Bolton - £2 million)*
Out: Carl Motteram (Torquay – free), James Dormand, Chris Cotterill, Sam Alsop, Chris Sutton, Njazi Kuqi, Muzzy Izzet (retired), Nico Vaesen (Lierse – free), Stan Lazaridis (Perth Glory – free), Emile Heskey (Wigan - £5.5 million), Kenny Cunningham (Sunderland – free), Jermaine Pennant (Liverpool - £6.7 million)
Manager: Steve Bruce
One to watch: Mikkel Forsell
My Prediction: 1st
How will we do? – 3/6
There cannot have been much sympathy for Steve Bruce around Selhurst when his Birmingham side went down at the end of last season.
He is still not a popular man around these parts after his acrimonious departure some years before. However, Bruce will inflict further pain on many others and us this season – as his side looks to bounce back into the Premiership at the first attempt.
There is no reason why that this cannot be achieved. Bruce has sold players and managed to remove a lot of the dead wood in the squad. There was misfortune when Muzzy Izzet was forced to retire but also fortune as Heskey was sold for £5.5 million to Wigan, who were attempting to buy anything that moved during July.
The misfiring striker who is still a figure of derision up and down the country, has left a space which Cameron Jerome will fill quite nicely, as he will want to prove that he is not a one season wonder.
Julian Gray is still more than capable of performing at this level and they have managed to keep hold of players like Matthew Upson, David Dunn and Mikkel Forsell and should all these players remain fit – the backbone of the team is assured.
Bruce has not rested on his laurels and bought players from the Premiership in a bid to bounce back at the first attempt. Stephen Kelly is highly rated but couldn't get a game at Spurs, while Bruno N'Gotty will provide the experience at the back.
Colin Doyles' performances on loan at Millwall last season has given him the back-up spot to Maik Taylor, who on his day is still a quality custodian between the sticks.
Add to this Mehdi Nafti, DJ Campbell (I kid you not) and Stephen Clemence, Birmingham have the appearance of a side going to be challenging at the top. Rahdi Jaidi, subject to a work permit, will be another Premiership quality signing so Birmingham cannot bemoan the lack of quality.
This is why I do not think that we will have it easy against them this season. Bruce will have noted how all 3 relegated teams the previous season struggled to make an impact and will not see his side suffer the same fate.
Players who wanted to leave, have left and there is more than enough quality amongst those left to beat most sides in this division – including ourselves. If we play to our best – we can beat them in one of the matches, but not both.
Mikkel Forsell will be my man to watch and alongside him, Cameron Jerome will be another. I expect Birmingham to fill one of the two automatic promotion spots, with the playoffs being the minimum that these players should achieve.
It is all down to how much harder the players want to work and their attitude. The right one saw Watford go up, the wrong one saw we stay down. Bruce is a canny sort and come May, last seasons relegation will be a long and distant memory.
Southampton
Last Season: 12th
In: Gregorz Rasiak (Tottenham - £2 million), Marcelo Sarmiento (RC Cordoba – loan), Bradley Wright-Phillips (Manchester City – undisc), Jermaine Wright (Leeds Utd – free), Pedro Miguel Cardoso Monteiro (Belenenses – undisc), Kelvin Davis (Sunderland – undisc), Rudi Skacel (Hearts - £1.6 million)
Out: Jelle Van Damme (Anderlecht – undisc), Darren Kenton (Leicester City – free), Paul Smith (Notts Forest – free), Yoann Folly (Sheffield Wednesday - undisc)
Manager: George Burley
One to watch: Gregorsz Rasiak
My Prediction: 2nd
How will we do? – 1/6
Picture the scene – Christmas on the South Coast and managerless Southampton turn to Harry Redknapp...
Hang on – that was 2004. 2005 was a different story as Redknapp left Southampton to rejoin the arch enemy Portsmouth and keep them up in the process.
Red face Saints fans turned on Rupert Lowe and last season ended up pretty much a write-off as Southampton finished a miserable 12th.
Yet the doom and gloom was lifted by the arrival of George Burley. Rupert Lowe may have finally found the man who can take Southampton back to the Premiership.
It would be his last act as the Chairman as to the relief of everyone associated with the club, Lowe was ousted and the years of asset stripping and mediocrity can start to be forgotten.
After all the upheaval last season, Burley came in and was given money to spend. He chose to turn to Gregorsz Rasiak, the free-scoring Pole stuck in the reserves at Spurs who he knew from his time at Derby. No sooner had he arrived that the goals began to flow.
He will form a decent partnership with Ricardo Fuller, who top-scored last season with 9. Rasiak was also on the list, despite playing only a handful of games, so he is my man to watch.
The close season was one which Saints fans can finally see the light at the end of a very dark tunnel.
Burley has moved swiftly to sign a mix of players who ooze quality at this level and some unknowns which he hopes, could pay off. If Burley can continue his form, then you wouldn't back against him.
Lest we forget this is the man who took Ipswich into Europe, Hearts to the top of the Scottish Premier (it was his handiwork that led to the foundations of their 2nd place finish) and Derby to the playoffs on a shoestring budget.
He might have seen Ipswich go down, been sacked from Derby and fell out with the Chairman at Hearts but with the most troublesome element at Saints now gone – he has been given a free reign to bring the good times back.
His signings should certainly beef up a side, which was below par last season. Kelvin Davis performed heroics at Sunderland despite having 4 cloven hoofed clowns in front of him, Bradley Wright-Phillips showed promise at Man City and will be keen to carve out a niche for himself in his own right, rather than just being known as Shauns brother.
Jermaine Wright is another player that Burley knew from his time at Ipswich and Rudi Skacel is possibly the best signing of the lot. Only time will tell if he can cut it at the Championship level but the highly talented Czech who was the principal reason that Hearts made it to Europe at all, so he could be a matchwinner all on his own.
Burley also inherits a squad with some young class in it also. Walcott may have moved on but they still have Gareth Bale, Chris Baird in defence (along with ex-Palace man Darren Powell) and consistent performers like Matt Oakley, David Prutton and forwards like Kenwyne Jones, Nathan Dyer and Dexter Blackstock all fighting for places – this is a squad going places.
Which is why I can only see us netting a point. Derby, West Brom and Coventry will all be tough challenges but a good start and the momentum will be there.
With a solid keeper, talented defenders and a midfield maestro,aided and abetted by consistent players with Premiership experience and a glut of forwards who can score at this level (Ricardo Fuller especially against us – how many times?!?), Saints will reach the playoffs and I think that 2nd place is within their grasp.
Burley has been here and done it before and the revolution that the fans wanted has happened.
Burley even signed someone called Pele, just to make sure that they go up! He might not be the same as a certain Edson Arantes Do Nascimento, but it will be a case of "Wilkommen Zum Premiership" at the seasons end.
West Bromwich Albion
Last Season: 19th Premiership (relegated)
In: John Hartson (Celtic – undisclosed), Chris Perry (Charlton – free), Pascal Zuberbuhler (FC Basle – free), Micheal Nardiello
Out: Andy Johnson (Leicester – free),
Manager: Bryan Robson
One to watch: Nathan Ellington
My Prediction: 3rd
How will we do? – 1/6
West Brom spend their 3 season in 6 back in the Championship, but with the squad that they have, should be in the shake up at the end.
Bryan Robson has managed to the squad together in the close season, allowing Andy Johnson to move to Leicester. He has invested heavily (no pun intended) on established players like John Hartson, Chris Perry and Pascal Zuberbuhler to boost their squad.
Looking through the team, it has quality all the way through. The Baggies have 3 quality keepers in Zuberbuhler, Kuszczak and Hoult, so it is expected that the arrival of the big Swiss stopper could mean that Robson may part with Kuszczak.
Perry will slot in next to Curtis Davies, who has given all at The Hawthorns a boost by committing himself for at least one more season, despite being courted by Arsenal. Paul Robinson, Neil Clement and Ronnie Wallwork are all players that did not look out of place in the Premiership, so the defence looks solid.
The midfield boasts the talents of Junichi Inamoto, Johnathan Greening, Darren Carter and if he can persuade him to stay, Zoltan Gera. Jason Koumas is still there, but after a major falling out with Robson, does not look like that he will be featuring much this season.
Cardiff want him but West Brom have rejected all bids so far, which will be more damaging to The Bluebirds than The Baggies.
Up front and they have a striker who can get 20 goals this season in Nathan Ellington, with John Hartson will be a foil for him. However, much will depend on his fitness and if recent pictures are anything to go by, he wont be ready for the start of the season.
Diomansy Kamara is a decent utility player but whether he can supply enough goals to get West Brom automatic promotion is another matter.
Hence my placing them 3rd. They will be very hard to beat but should get enough goals for them to end up close to the automatic promotion spots, but they will just miss out.
We will, as a lot of sides will, struggle against them and a draw at home would be no bad result, we might nick a victory but they will have to have an off day and we will have to be at our best. It might well be a case of "boing, boing Baggies" but this time they will have to do it through the play-offs.