August 7 2006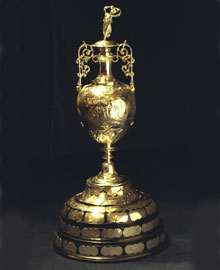 The Saint's epic guide to the 2006-7 Championship season.
Preston North End
Last Season: 4th
In: Kevin Wilson (Notts County – undisc) , Jason Jarrett (Norwich – undisc), Danny Pugh (Leeds United - £250,000), Sean St Leger (Peterborough - £225,000), Liam Chilvers (Colchester – free),
Out: Gavin Ward (Tranmere – free), Micheal Jackson, Ritchie Baker (Bury – free), Chris Lucketti (Sheffield United - £300,000), Claude Davis (Sheffield United - £3 million), Tyrone Mears (West Ham - £1 million)
Manager: Paul Simpson
One to watch: David Nugent
My Prediction: 8th
How will we do? – 3/6
Preston fans will be looking to this season with a sense of what might have been. 2 seasons in a row, they tasted playoff heartbreak and the inevitable occurred over the summer when manager Billy Davies felt that he had taken the club as far as he could, while a few of his players clearly felt the same.
Captain Chris Lucketti went on-loan to Sheffield United last season and he made his move permenant over the summer.
Claude Davis and Tyrone Mears followed, meaning while the coffers at Deepdale are swelling, finding replacements for them might be tougher.
The man with the responsibility of rebuilding the side is Paul Simpson, the ex-Manchester City midfielder took Carlisle back into the league and got them into League One last season, so his credentials for promotion seem sound. He will be a rookie at this level and he might find this a steep learning curve.
The signings do not look inspiring either. Jason Jarrett and Danny Pugh had ordinary seasons last time, and Simpson has used his knowledge of divisions below as he added Sean St Leger, Kevin Wilson and Liam Chilvers to the squad. Will they be good enough?
The team does still look solid and David Nugent is still at the club. He was top scorer last season despite an injury that kept him out for a few months (sound familiar?) with 11 goals. Patrick Agyemang hit 9 but more will be required if they are to make an impression this season.
As we found out last season, Preston was a difficult side to play against. We failed to win in 4 matches, a last minute draw at home while we lost tamely away on a cold midweek night.
With so many of the defence having departed either through injury or being sold. Carlo Nash, as good a keeper as you will find in this division, will be a lot busier.
So I cannot see Preston improving on 4th or even matching it. There have been too many other sides that have improved and Preston won't be able to match the heights set by Billy Davies.
They will still score goals but I can only see a lower top half finish at best, due to their inability to keep them out. We will get a home win, but away they will still cause problems for many sides.
Derby County
Last Season: 20th
In: Steve Howard (Luton Town - £1 million)
Out: Tomas Hajto, Jeff Kenna, Pablo Mills (Rotherham – free), Kevin Poole
Manager: Billy Davies
One to watch: Inigo Idiakez
My Prediction: 9th
How will we do? – 3/6
Derby fans at least have the comfort that East Midlands neighbours Nottingham Forest still ply their trade in League One. Last season was, an unmitigated disaster compared to the previous season where they reached the playoffs.
Derby took a chance and appointed Phil Brown, the ex-Bolton assistant manager, last season in the hope that he could add to his burgeoning reputation and reach the playoffs.
He failed miserably and when Gregorsz Rasiak left before the end of August, Rams fans could only sit and watch as their side slipped and slid down the table to the extent where Brown was given the boot and Terry Westley took the reigns and managed to recover from a 6-1 beating against Coventry and being dumped out of the FA Cup by Colchester to string the odd win (including an Idiakez inspired home victory against ourselves) every few games to ensure that while relegation was a distant threat, it was one that remained so.
But the table does not lie and 20th place is simply not good enough for Derby and it's long suffering fans. It is a long way since the days of Paulo Wanchope and the Premiership.
Billy Davies made the move from Preston in the close season and his move was strange to say the least, as he left a club that reached the playoffs in the 2 seasons. He could see that way that the wind was blowing at Deepdale and made the move to the Midlands.
He has inherited a side with considerable talent and experience. Lee Camp established himself in goal, Marc Edworthy, Darren Moore, Morten Bisgaard and Paul Peschisolido all know this level well, while youngsters like Lewin Nyatanga and Giles Barnes have made the 1st team and the headlines. The star is still Idiakez whose all round creativity still unlocks defences time after time.
He runs the show, taking free kicks, penalties and can make a defence splitting pass at any given moment. He scores goals too, as he was their top scorer last season with 11. He is my man to watch and if only the Palace defence did the same, well we might not have lost last season!
Seth Johnson also returned and made a significant contribution, as did Tommy Smith up front as his 7 goals were crucial in keeping Derby out of the relegation scrap last season. Davies has made to date just one foray into the transfer market but it was a significant one, bagging Steve Howard from Luton Town.
Whether he can justify the price tag is another matter but with service from Idiakez, Barnes and Johnson, he should flourish.
We can get one win from two games here. We should have enough to beat them at home but this is an improved Derby side. It might be a season too soon for them to make the playoffs but they will be in the top half of the table come May and not too far away from 6th place.
Davies will have them moving in the right direction again, which is something since relegation from the Premiership, Derby fans have rarely seen in 4 years.
Sunderland
Last Season: 20th Premiership (relegated)
In: Kenny Cunningham (Birmingham – free),
Out: Gary Breen (Wolves – free) , Sean Taylor, Billy Dennehy, Martin Woods (Rotherham – free) , Kelvin Davis (Southampton – undisc), Julio Arca (Middleborough - £1.75 million), Christian Bassila (Larisa – free)
Manager: Kevin Ball
One to watch: Kevin Kyle
My Prediction: 10th
How will we do? – 1/6
Sunderland managed to become the laughing stock of the Premiership and the English football world last season as the capitulated to relegation in March.
They were doomed before Christmas and Mick McCarthy left while it was still mathematically possible for them to remain in the Premiership. However, I doubt even Jose Mourinho would have kept them in the division last season.
Sunderland were Champions last time in this division and the personnel does not look vastly different from back in 2005. There are some notable absences now that will undermine any promotion challenge.
Kevin Ball has managed to sign the experienced Kenny Cunningham from Birmingham and the return of George McCartney and Kevin Kyle from injury will be like having 2 new players. It is the players though who have moved on that Ball will find hard to replace.
Kelvin Davis moved to Southampton that on paper looks a bad move but he clearly felt that George Burley offered a better chance of promotion than staying in the Stadium Of Light, which witnessed outstanding performances from him last season week in, week out despite their relegation.
Julio Arca is another who Ball will find it hard to replace. The Argentine, who had been at the club for around 5 seasons, has moved to Middlesborough looking for a new challenge after suffering 2 horrendous relegations from the Premiership. Sunderland holds the unenviable record of having the worst 2 Premiership seasons in its short history with relegation on 20 points.
Ball will look to the players who he has at his disposal to try to bring Sunderland back to the big time.
He must either have rose-tinted glasses on or Sunderlands' reputation has now become so bad, that no one wants to join them. The side looks ineffective and while they should be able to play better a division below, I still cannot see some players making the grade this season.
Johnathan Stead is one such player. A leading scorer in League 2 a few years back with Huddersfield, he made the transition to the Premiership with Blackburn with ease but found the following season a lot harder and last season, managed a solitary goal as Sunderland went down without a fight. Can he rise to the occasion this season? I don't think so.
Sunderland do have quality in players like Rory Delap, Dean Whitehead and Liam Lawrence, but the long season will take its toll and Sunderland do not look equipped for a 46 game season.
Nyron Nosworthy suffered relegation 2 years in a row so I am not sure of his credentials and Justin Hoyte, who was loaned from Arsenal last season, has not returned which will leave another gap in the side.
Cardiff City
Last Season: 11th
In: Glenn Loovens (Feyenoord – undisc), Micheal Chopra (Newcastle – undisc), Stephen McPhail (Barnsley – free), Nick McKoy (MK Dons – free), Malvin Kamara (MK Dons – free), Joe Jacobson (free), Roger Johnson (Wycombe - £275,000), Kerriera Gilbert (Arsenal – loan), Luigi Glombard (Nantes – undisc)
Out: Gulian N'dunbu – N'sungu, Phil Mulryne, Martyn Margetson, Jermaine Darlington, Willie Boland, Terek Khalil (Bournemouth – free), Cameron Jerome (Birmingham - £3 Million), Neil Cox.
Manager: Dave Jones
One to watch:
My Prediction: 11th
How will we do? – 3/6
Dave Jones is fast becoming the new Harry Redknapp with his wheeling and dealing of players close season.
All the headlines have reverberated around two players; one who has not signed yet and one that has left and not the players who have arrived.
Jason Koumas has become a possibly touchy subject around Cardiff as the Welsh international to date still will be stuck in the Midlands rather than turning out at Ninian Park.
He wants to join them, but Bryan Robson is holding out for more money. Should Cardiff not persuade West Brom to sell, he will be sorely missed as he scored 12 times last season, but set up many more.
The beneficiary of many of Koumas' creative touches was Cameron Jerome and the Championships leading scorer moved to Birmingham in the summer for £3 million. A lot of money for a player who had one good season but Jones will be hard pushed to replace the 30 combined goals that both players provided.
Jones has managed to bring in players to bolster the squad. Glenn Loovens signed permenantly from Feyenoord after impressing last season on loan, while Micheal Chopra will be tasked with replacing Jerome and his goals. Irish International Stephen McPhail joined from Barnsley and the highly rated Malvin Kamara and Roger Johnson joined from MK Dons and Wycome respectively.
Both will be keen to make an impression this season as they seek to make the Championship grade.
Seasoned professionals like Jeff Whitely, Darren Purse, Neil Ardley and Ricardo Scimeca will ensure that the spine of the team is solid while Rhys Weston and Joe Ledley will provide a creative spark.
Cardiff should finish higher than I have placed them, but I just can't see it. Chopra has scored goals on loan in this divison and below, but to place the goalscoring responsibility on a largely untried player is a risk. T
he midfield looks solid but the defence is a year old, Darren Purse cannot go on forever and much will be on to how he organises the back four. Any injuries will force Jones into playing an untried youngster or a player brought in from a lower division.
Cardiff will plateau this season in 11th and fans will see another solid season. However, should Cardiff manage to sign Jason Koumas, then they could end up a lot higher. They are not a one-man team, but this season without that one man, mid-table is the best that they can hope for.