August 7 2006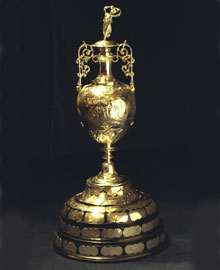 The Saint's epic guide to the 2006-7 Championship season.
Wolverhampton Wanderers
Last Season: 7th
In: Gary Breen (Sunderland – free), Guilherme Finkler (Juventude – loan), Jay Bothroyd (Charlton – free),
Out: Joleon Lescott (Everton – undisc), Colin Cameron (Coventry – free), Mark Kennedy (C.Palace – free), Seol Ki-Hyeon (Reading - £1 million), Paul Ince (released), Kenny Miller (Celtic - £3 million), Chris Cornes (suspended), Keith Lowe (Brighton – loan)
Manager: Mick McCarthy
One to watch: Carl Cort
My Prediction: 12th
How will we do? – 4/6
This has been possibly the worst close season for a long time as the fans of the Old Gold saw their best players sold and one former International manager be replaced by another.
It was out with draw specialist Glenn Hoddle and in with, erm, Mick McCarthy who brought Sunderland to new lows before shuffing out the door with Sunderland doomed with almost 2 months of the season still to go. Add to this the departures of talent like Lescott, Miller and Seol and last seasons 7th place looks unlikely to be repeated, never mind improved upon.
With Miller gone before even the final whistle of last season blown in May, it has been just one disappointment after the other. Paul Ince has left the club after losing out to McCarthy, Chris Cornes has been suspended on drugs charges and with rumours of a possible takeover threatening to overshadow anything that can be done on the pitch, it is not hard to have sympathy for Wolves fans, desperate for a return to the Premiership.
But it won't happen this season. McCarthy may have gotten Sunderland up the last time, but that was with an infinitely better squad than Wolves have currently. The goals have all but walked out of the door and the reliance on Carl Cort will be heavy.
Jay Bothroyd has joined from Charlton after a disappointing season but Viorel Ganea, is now 33 and with only 4 goals last season – an improvement looks unlikely. Frankowski looks a good player but without service, will struggle also.
Midfield guile has been lost in the shape of the mercurial Seol and Mark Kennedy, who we will have the pleasure of seeing in our colours this season. His combative approach last season will add much needed bite to our midfield.
For Wolves though, they do still have Seyi Olofinyana but the loss in defence of Joleon Lescott will not be tempered by the signing of Gary Breen, who as a McCarthyite will be a good organiser, but can he still cut it at this level, we all saw what Blunderland achieved last season – he was at the heart of that defence! Which is why I can see us getting a win at home, but Molineaux is a tough place to go, whoever is on the field so a point there is no bad result.
With McCarthy having little time to bring players in, I see a slow start for Wanderers and it may be only after Christmas that they will pick up at all.
The players who have left all leave big holes in the team and the incoming transfers, of which I expect there to be more of, do not look up to the standard required for a promotion push. Wolves fans will be left wondering just how long it will be until they can taste the top flight again.
Leicester City
Last Season: 16th
In: Gareth McAuley (Lincoln City – free), Josh Low (Northampton – free), Andy Johnson (WBA – free), Darren Kenton (Southampton – free),
Out: Lee Morris (Yeovil – free), Patrick Gerrbrand (released)
Manager: Rob Taylor
One to watch: Iain Hume
My Prediction: 13th
How will we do? – 3/6
Rob Taylor has spent his first close season acquiring players that will provide stability after the poor outing under Craig Levein last time out. Taylor has decided against wholesale changes, rather quietly acquiring players that can life Leicester from the lower reaches of the table.
Darren Kenton has been a consistent player at this level for a few seasons now, with Premiership experience also he will be a solid asset, as will Andy Johnson who had lost his way at WBA so he will look forward to the new challenge.
Taylor has also managed to get Josh Low on a free from Northampton. He impressed against us last season in the FA Cup so Taylor will hope that he can reproduce that form over the course of the season.
Leicester do have some excellent players. Iain Hume has been turning in good performances since his move from Tranmere and his 10 goals last season may not seem like a great return, but given that this made up more than 20% of the total scored last season, he is the key man.
Matt Fryatt is also another player who could improve after netting 6 goals last term since his move from Walsall.
Leicester still have a number of the signings made by Levein and it is hard to understand why players of the class of Alan Maybury, Patrick Kisnorbo and Rab Douglas did not improve Leicester during the last season.
Other seasoned professionals such as Stephen Hughes, Danny Tiatto and Nils Eric Johansson have all got Premiership experience, but they failed to life the club last season. Foxes fans will be eager to find out if it was the players who had the shortcomings, or their former manager.
I think that while it will not be the most impressive season that Leicester have had, it will be an improvement on last time. Last season we got turned over at the Walkers, but beat them at home.
I can see no reason why this won't be the same this season. Taylor will show signs of getting the formula right, but it might be a season too soon.
Sheffield Wednesday
Last Season: 19th
In: Madjid Bougherra (FC Guegnon – undisc) , Kenny Lunt (Crewe – free), Wade Small (MK Dons – undisc), Yoann Folly (Southampton – undisc)
Out: Jon-Paul McGovern (MK Dons – free), Ritchie Partridge (Rotherham – free), Drissa Diallo (MK Dons - free), Craig Rocastle (Oldham- free), David Graham (Bradford City – loan), Patrick Collins (Darlington –free), David Lucas (released)
Manager: Paul Sturrock
One to watch: 14th
My Prediction:
How will we do? – 3/6
Paul Sturrock managed to keep Wednesday in the division last season and I expect him to start turning them around this. After the years of overspending, Wednesday fans have had to suffer the ignominy of 2 relegations, before Sturrock plotted their return to footballs 2nd tier in 2004.
There are brighter times ahead for Wednesday coming this season, although it will be a case of slow progress, rather than a jump towards the playoffs.
Sturrock has spent little, but got a lot of value for the players he has brought in. He raided relegated Crewe for Kenny Lunt and managed to get Madjid Bougherra, who was on loan at Gresty Road from FC Guegnon in France.
He played well against us last season and Sturrock knows that the Algerian will make Wednesdays' defence more solid, as shipping goals last season was one of their issues. Yoann Folly, a player he will have known at his time at Southampton will beef up the midfield, while Wade Small could provide some firepower which was severely lacking last season as top scorer Steve Mclean, one of the heroes from their playoff success the season before, was out injured for the majority of the season. Now he is back to full fitness, Wednesday can look forward to hitting the net more often.
One signing which didn't happen over the summer was that of Scott Carson from Liverpool. The England World Cup squad player is remaining on Merseyside and with David Lucas having left the club, Sturrock will be relying on Chris Adamson in goal.
Wednesdays' squad is quite small and the quality in the first 11 cannot be questioned, but it does not look like it will be able to cope over 46 matches. Burton O'Brian , Graham Coughlan, Christ Brunt and Marcus Tudgay are solid players, but there is nothing to suggest that Wednesday will make a charge into the top half.
They will prove to be difficult at Hillsborough, but at home we should manage to get 3 points. Like Leicester, they will improve this season and while it will be another season of consolidation for Sturrock, they are moving in the right direction.
Luton Town
Last Season: 10th
In: Richard Langley (QPR – free), Adam Boyd (Hartlepool - £500,000)
Out: Enoch Showunmi (Bristol City – free), Lee Mansell (Torquay – free), Steve Howard (Derby - £1 million) , Kevin Nicholls (Leeds United - £700,000)
Manager: Mike Newell
One to watch: Rowan Vine
My Prediction: 15th
How will we do? – 4/6
Mike Newell would have viewed last season as a successful first season back. The ex-Everton and Blackburn striker masterminded a campaign which saw Town make the early running in the division, only to fade into a final mid-table spot.
As he is going to find out, repeating the trick is going to be a more difficult proposition and he must do it, without 2 of his key players from last season.
The decision to see Kevin Nicholls and Steve Howard move on is surprising as the ambition to kick on in this division seems to have been superceded by the wont for cashing in on their stars £1.75 million is a lot to a club like Luton and with Howard reaching 30 years of age, they might feel that his 14 goals last season was as good as it was going to get, but Luton were an effective unit and Newell has gambled on 2 players to fill that void.
Richard Langley has lost his way over the course of the last few years, after drifting in the doldrums with Cardiff and QPR. Newell has charged him the responsibility of filling Kevin Nicholls sizeable shoes.
Adam Boyd scored goals for fun in 2005 as Hartlepool rose into the playoffs, so Newell will pin his hopes on the striker stepping up a division but still producing the goods, as well as forging a partnership with Rowan Vine, who will be expected to lead the line and he is my one to watch.
The spine of the team is unchanged, with players like Marlon Beresford, Carlos Edwards, Markus Heikkenen and Ahmet Brkovic making big impressions last season, so there is quality there. Whether Luton has enough of it to improve on last seasons 10th place, we will have to see.
No longer being the new club in the division, the shock value that Luton had will be gone. They gave us a severe warning of what was to follow on opening day last season; I cannot see them doing the same this season.
A tougher campaign for Luton will see them finish in the lower mid table reaches and we will take 3 or 4 points from them this time out. We won't make the same mistakes again and Newell will have to improve on his very effective formula from last season.
Ipswich Town
Last Season: 15th
In:
Out: Kevin Horlock (Doncaster – free), Dean McDonald (Gillingham – free),
Manager: Jim Magiliton
One to watch: Nick Forster
My Prediction: 16th
How will we do? – 3/6
Ipswich has become a team in decline. Town parted company with Joe Royle at the end of last season, which saw their worst Championship performance since their relegation from the Premiership in 2002.
Jim Magilton has become the youngest manager in the Championship and despite a severe lack of transfers over the summer, he will have the same players to work with that Royle did last season.
I am not sure what Town fans were expecting but once Darren Bent and Sheki Kuqi left, replacing them was always going to be a big ask.
Nicky Forster and Sam Parkin were the replacements but both players are going to have to improve on the 12 goals that they combined to score last season. Alan Lee joined after Christmas but he only managed 5 goals.
Darren Currie managed 5 from midfield and Magilton will look to him to provide much needed firepower. Kevin Horlock might have departed, but Town can look to Gavin Williams, Dean Bowditch and Ian Westlake to create the chances for the forwards.
Shane Supple was one of the players who was a big positive for Ipswich last season and he will fight for the number 1 sport with Lewis Price , who showed last season that he has a big future in the game. Town will need them to be at their best, as they will be busy this season.
Magilton is an unknown so this is why I have only put Ipswich in 15th place. There has been very little difference in playing staff, so it will be down to what Magilton can do. This season may appear to be a non-event for Town supporters, but for Magilton, this will be his big chance.
Traditionally we always do well at Portman Road, but lose at home. I see no difference to this but we could sneak a draw on the opening day, as our new look team will want to try to impress early on. Victory is ours on opening day!